1953 Maserati Sport 2000
Coachbuilder
Fiandri & Malagoli
Beacon
ON/OFF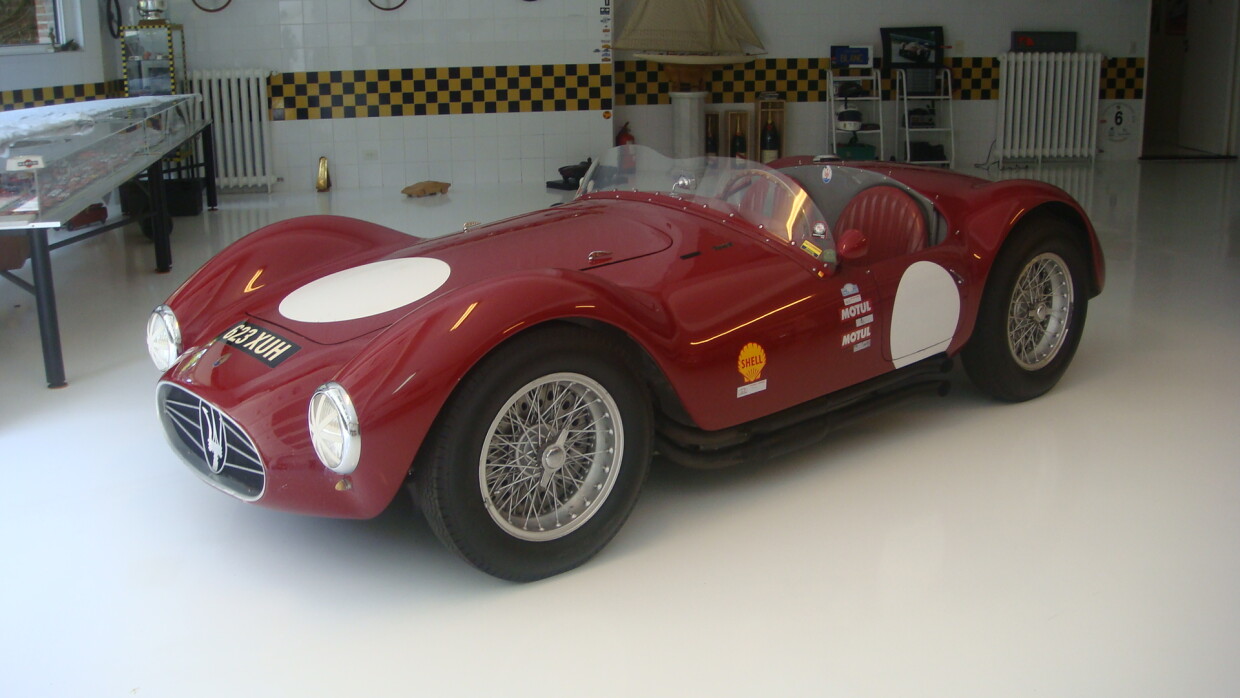 In the 1954 and 1955 Mille Miglia. It raced between 1954 and 1956 with the gentleman driver Alberico Cacciari. Found in South America in the 1980s and restored.
Why am I an Automotive Masterpiece?
A. Concept and show cars
B. Prototypes
C. One-off models
D. Remaining cars from extremely limited production runs
E. Historic event cars
F. Cars owned by famous people
G. Team cars
H. Works cars
I. Press cars
J. Movie cars
K. Famous chassis' cars
L. Limited edition cars
H. Works cars
Officine Alfieri Maserati (I)
L. Limited edition cars
no. 31 manufactured, 15th built. No. 53 manufactured, 15th built
The second version of the Sport 2000, also known as A6GCS/53 is a two-seater racing car built by Maserati from 1953 to 1955. The huge number of races reserved for the sports-car category in the first half of the 1950s was a strong attraction for the manufacturers and for Maserati, which had always been dedicated to a commercial policy. In 1953 its task was facilitated by the contribution of a talented and eclectic designer like Gioacchino Colombo who, in compliance with the directives for the 2000 cc class, happily put them into practice with the A6GCM single-seater. By focusing on the conscious domestication of the engine, sitting on on a Gilco chassis basis, one can understand the validity of the project and that the amount of successes that accompany the journey of the second edition of the A6GCS is justified. It began its career in semi-official form in the spring of 1953 with a group of selected customers whose performances are a formidable promotional vehicle. The A6GCS/53 proliferate in Europe and the Americas, representing among other things an excellent example of a training car for a whole generation of drivers. It remains in production until the end of 1955 when the 50 units produced are exceeded. Almost all of these are set up in a spider version created by Medardo Fantuzzi and, alternatively, by Celestino Fiandri. There are also two spiders, one from Frua, the other from Vignale and three Pininfarina berlinettas.
According to a letter from Officine Alfieri Maserati S.p.A. Automobili dated February 13, 1989 and addressed to Mr. Antoine Prunet, this Maserati A6GCS with chassis no. 2066 was completed on April 9, 1954 and sold to Dott. Alberico Cacciari on April 25, 1955. This letter states that it is not documented who was the first driver that drove this car but some mechanics confirmed that it was Dott. Cacciari the first that drove it. He was a wealthy gentleman driver from Bologna that after the end of WW2 started to race randomly. He began racing with some little FIAT and moved on with OSCA, Ferrari, Maserati. The gentleman driver faced many races with the Maserati chassis no. 2066, from 1954 to 1956. In 1956 Dott. Cacciari started racing a Mercedes-Benz 300SL and like so many Italian competition cars, this Maserati was sold and re-appeared in the early 80s in Venezuela. The story of chassis no. 2066 during the period 1957 – 1980 is yet to be discovered. What is known is that Mr. Edoardo Magnone, a FIAT director operating in South America, found it fitted with an American V8 engine and transmission. Mr. Magnone sold it to Richard Crump that imported the car in the UK and started a complete restoration. It arrived in the UK on June 18, 1981 without engine, gearbox and rear axle, and the body had some damage but was repairable. Around 1986/87 the body was repaired and the chassis was fitted with a correct and original rear axle. The restoration project together with a complete and original gearbox, as well as some original engine parts, was sold to Mr. J.J. Leon, a veterinary doctor who lived in Frejus, South of France. Mr. Leon finished the restoration and owned the car for a number of years. After his death, the car was sold to Mr. Massimo Colombo who was a dealer and had a customer for the Maserati. Unfortunately, Mr. Colombo died in the process of selling the car and his widow sold the car to German dealer Klaus Werner that in 1997 sold the car to Mr. Hubert Leucther. In 2006 the Maserati was sold again to the current owner.