An amazing Ferrari 500 Mondial at 2016 Coppa Franco Mazzotti
October 10, 2016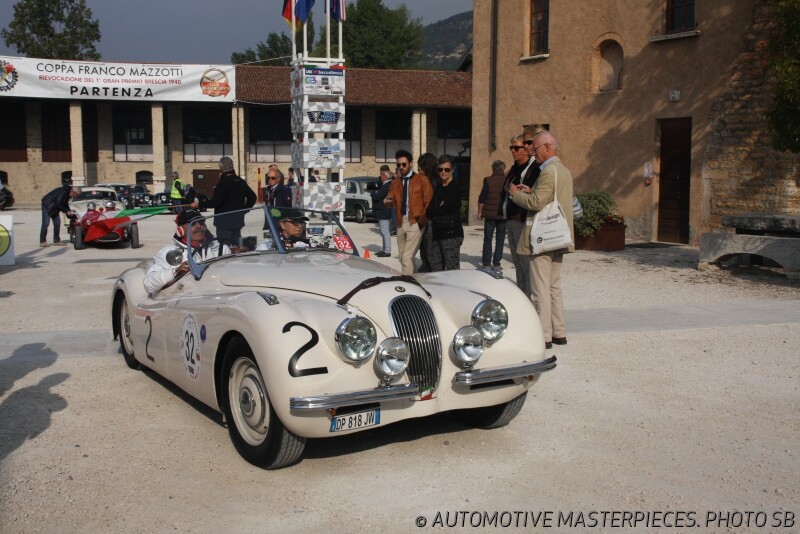 Franco Mazzotti, just twenty-two years old in 1926, was urged by his father to get involved in the various initiatives that would eventually prepare him for his role in the numerous financial and industrial activities; his pragmatism and charismatic nature made him standout as the group's leader.
"Franco, having recently returned from the United States, was still feeling the enormous diffusive effect of automobile racing in the life overseas, and with his young enthusiasm seemed taken over by an idea: to do the same in Italy, something that would draw the public in. A race that would attract the huge number of fans that he had seen on American tracks", writes Canestrini.
Canestrini, tinged with a hint of ill-conceived irony, narrates how a group of Brescians arrived to his home in Milan on Via Bonaventura Cavalieri, which included Franco Mazzotti, Aymo Maggi, Renzo Castagnet, (the other three musketeers). The rest of the story is history, until Franco Mazzotti declares the words: "Mille Miglia Cup".
The Coppa Franco Mazzotti was wanted by the Club Franco Mazzotti to honor and remind one of the four musketeers founders of the Mille Miglia.
After seven previous editions, in 2016 the Coppa Franco Mazzotti presented itself as classic regularity race, technically challenging for competitors under the 71 time trials, two medium tests and 5 Time Controls, distributed in 142 km of the tormented path between Brescia and Franciacorta.
Brescia, the City of the Mille Miglia, celebrates the victory of the racing team composed by the drivers Andrea Vesco and Andrea Guerini at the 2016 Coppa Franco Mazzotti with a 1934 Fiat 508 S Coppa d'Oro. This car is a 1955 second series Ferrari 500 Mondial (sn: 0536 MD), which used a type 510 tubular steel chassis, with a type 111 four cylinder twin overhead camshaft engine of 2 litre capacity, mated to a 5 speed type 509 transaxle.
It was supplied new in April 1955 to Italian gentleman racing driver Luigi Taramazzo, who ran in it in the Mille Miglia on race # 628 with Bologna "Prova" registration # BO 46420, on 30 April/01 May, days after taking delivery. He was leading his class and 4th overall before retiring on the penultimate stage. Later that year it was exported from Italy to the USA by Luigi Chinetti, and it continued its competition career across the Atlantic. 
Several AUTOMOTIVE MASTERPIECES participated in this race: two Fiat 508 Berlinetta Mille Miglia, the S.I.A.T.A. 1100 coupé Aerodinamica, a Fiat 1100 S, a Bandini Sport Siluro, an Ermini Sport 1100, two Lancia Aurelia B24S Spider America, and last bust not least a Ferrari 500 Mondial, among others.  
Three cars entered the event were already counted among the AUTOMOTIVE MASTERPIECES:

♦️ 1928 Riley 9 HP Brooklands Speed Model (Thomson & Taylor) sn: 6019 (n. 3 Nessi/Nessi)

♦️ 1933 Fiat 505 Spyder tipo corsa sn: 508016627 (n. 6 Belometti/Marini)

♦️ 1954 Arnolt Bristol Two Litres Bolide sn: 404X3076 (n. 41 Bas/Bas)