Ferrari 212 Export Barchetta Breaks Record
May 24, 2015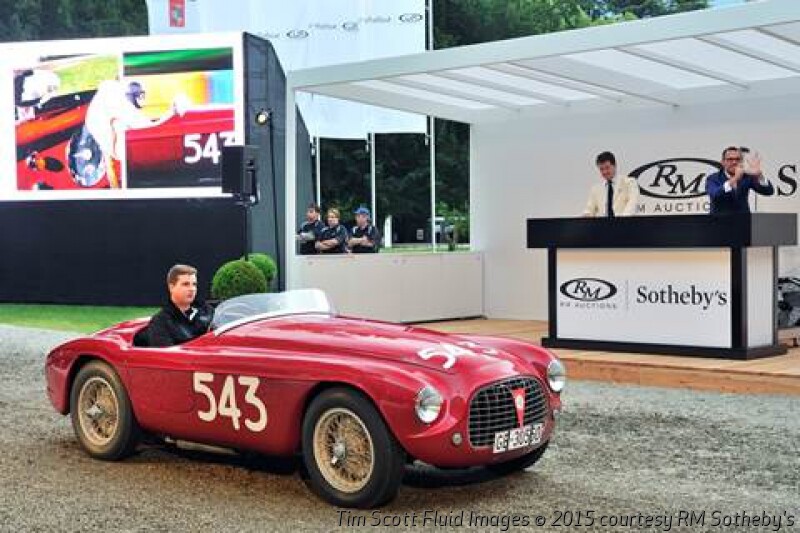 Lake Como, Italy – RM Sotheby's, the official auction house of the Concorso d'Eleganza Villa d'Este, continued its strong sales run in Italy. Proving that cars with exceptional history and unquestionable provenance continue to lead the market, top sales honors went to a historic 1952 Ferrari 212 Export Barchetta, chassis 0158ED. A spectacular early racing Ferrari, bidding on the Touring-bodied Barchetta opened at € 3 million before quickly climbing to an impressive final € 6.720.000, smashing the previous auction record for the model. It led a string of 10 individual million-euro-plus sales recorded during the course of the evening, each celebrated with a round of enthusiastic applause from the audience.
 This amazing Ferrari has joined the AUTOMOTIVE MASTERPIECES exhibitions lab. 
 Among other notable sales a stunning 1949 Alfa Romeo 6C 2500 SS Villa d'Este Coupe, the epitome of sporting elegance and perfectly matched to the Villa d'Este weekend, sold for an above-estimate € 784.000.
 Also this 1949 Alfa Romeo 6C 2500 SS Villa d'Este Coupe is counted among the AUTOMOTIVE MASTERPIECES:
RM Sotheby's Villa Erba Million-Euro Sales
Lot 110 – 1952 Ferrari 212 Export Barchetta - € 6.720.000
Lot 120 – 1963 Ferrari 250 GT/L Berlinetta 'Lusso' - € 2.016.000
Lot 105 – 1985 Ferrari 288 GTO - € 1.904.000
Lot 133 – 1960 Ferrari 250 GT Cabriolet Series II - € 1.568.000
Lot 107 -  2002 Ferrari Enzo - € 1.260.000
Lot 108 – 1996 Ferrari F50 - € 1.232.000
Lot 132 – 1953 Fiat 8V Cabriolet - € 1.120.000
Lot 129 – 1971 Lamborghini Miura P400 S - € 1.019.200
Lot 106 – 1991 Ferrari F40 - € 1.008.000
Lot 112 – 1973 Porsche 911 Carrera RS 2.7 Sport Lightweight € 1.008.000