Mille Miglia 2015: the legend is back
May 3, 2015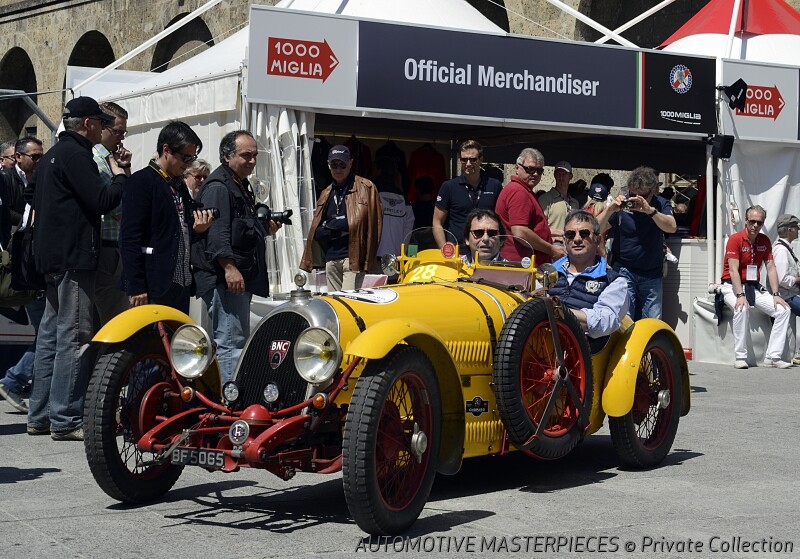 "Mille Miglia is so much more than race cars, drivers, winners, and losers. Mille Miglia is a part of Italian life, and its effects extend the length and breadth of Italy, all the way down to Sicily." Denis Jenkinson
Although written seventy years ago, this sentence by English journalist Denis Jenkinson, winner of the 1955 Mille Miglia alongside Stirling Moss, is still current, because it fully reflects what the Red Arrow means to this day, and how beloved it is even now. 
In keeping with the tradition of the international presentation, the 33rd  revival edition of the Mille Miglia race, scheduled from 14 through 17 May, was presented on opening day of Techno-Classica Essen, the most important showcase dedicated to Europe's vintage cars.
Adding together the 24 racing editions from 1927 to 1957 (13 before the Second World War and 11 after 1947), the 3 with the rally formula of 1958, 1959 and 1961, and the 32 revival editions from 1977 to 2014, the 2015 edition will see the seventieth auto competition to bear the Mille Miglia name. 
As always, this will be a one-of-a-kind opportunity to best savour the best of Italian hospitality, through artistic masterpieces and natural scenery of extraordinary beauty, all enriched by the passing of 430 vintage cars. 
This year, Mille Miglia will be organized for the third time by a company that is a 100% stakeholding of Automobile Club di Brescia, the holder of the brand since the first edition.
Among the many reasons why Mille Miglia is without compare for refinement, exclusivity, and prestige, there is that of being the rarest travelling museum of automobile history. Once a year, treasures of inestimable value, which have gone down in history as among the finest in international motor sports, will converge on Brescia.
Participants include models from the museums of carmakers like Mercedes-Benz, Alfa Romeo, BMW, Jaguar and Porsche.
The cars taking the field at the Viale Venezia start on the evening of Thursday, 16 May belong to 61 different brands: the lion's share goes to Mercedes-Benz and Alfa Romeo with 38 cars, followed by Jaguar with 36, FIAT with 34, Lancia with 30 and Porsche with 22 cars.
AUTOMOTIVE MASTERPIECES has published 10 cars that ran the Mille Miglia from 1927 to 1957 and 27 that ran the historical revivals.
 Eleven Mille Miglia 2015 cars are already counted in AUTOMOTIVE MASTERPIECES exhibitions lab:
 ♦️ N. 34 1927 B.N.C. Type 527 Sport Monza - sn: 27082 - Murru/Castaniti
♦️ N. 47 1929 Mercedes-Benz 710 SSK - sn: 36045 Louwman/Louwmanwebsite coming soon!
 ♦️ N. 118 1936 Riley 12/4 Sprite - sn: S26S4394 - Marini/Mariniwebsite coming soon!
♦️ N. 154 1947 Cisitalia 202 Gran Sport - Pinin Farina - sn: 033 - Massai/Ragionieri
♦️ N. 178 1947 Bristol 400 - Pinin Farina - sn: 400-181 - Berry/Goodman
♦️ N. 247 1952 Ferrari 225 Sport Spider - Vignale - sn: 0198ET - Stehle/Rybczynski
♦️ N. 296 1954 Fiat 8V - sn: 106000103 - Nicoletto/Marzottoù
♦️ N. 249 1952 Aston Martin DB3S - sn: DB34 Louwman/Woodwebsite coming soon!
 ♦️ N. 310 1954 Arnolt Bristol Two Litres Bolide - sn: 404x3076 - Bas/Bas
♦️ N. 323 Fiat 1100 TV GT - sn: 103tv045281 - Ronzoni/Acerbis
♦️ N. 345 1955 Alfa Romeo 1900 C Super Sprint - sn: AR1900C02060 - Marx/Di Tarantowebsite coming soon!