Elected the Beauties of the 16th Concours d'Elegance, Salvarola Terme Trophy
March 15, 2015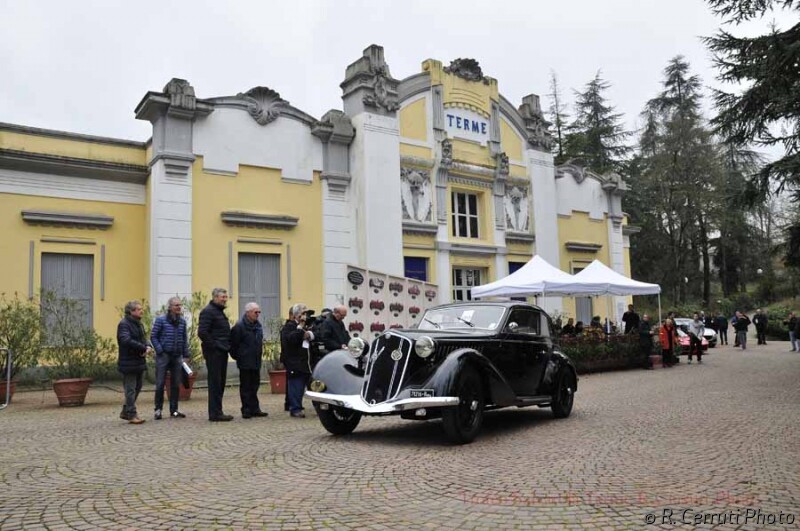 Here are all the winners of the sixteenth edition of the Concours d'Elégance Salvarola Terme Trophy, which took place with success on March 14 and 15 among Sassuolo, Fiorano, Maranello and Modena. Special Guest of this edition were the cars of Touring Superleggera International Registry, which four classes were devoted. The event has been organized by Terme della Salvarola e la Terra delle Rosse in collaboration with the Ferrari Museum in Maranello, the Enzo Ferrari Museum in Modena, the Towns of Sassuolo and Modena and the patronage of the Municipalities of Maranello and Fiorano, as part of Motor Valley events. The Concours is a journey through time and space in a small piece of land that has given rise to some of the most celebrated excellence in the field of motorsport, gastronomic, cultural and artistic.
Best of Show 2015 is the 1934 Alfa Romeo 6C 2300 Pescara Berlinetta Touring sn 700589 driven by Mr. Ottorido Fontana. The 1926 Fiat 509 "pesce" (fish) of Mr. Edoardo Tenconi was awarded by the public with the "Best of Saturday" title. The prize for the Best Preserved Car went to the 1969 Lancia Flaminia Marica sn 826138001168 of Mr. Corrado Lopresto, and the "Best of post-war Touring" was elected the 1951 Ferrari 212 Export Touring Berlinetta Le Mans sn 0112E driven  by Mr. Fabio Calligaris.
 AUTOMOTIVE MASTERPIECES is working on the census of the cars bodied by Carrozzeria Touring to celebrate the ninetieth in 2016.
♦️ The 1969 Lancia Flaminia Marica sn 826138001168 is already part of the lab AUTOMOTIVE MASTERPIECES.
 Other cars already published that took part in the Concours are:
♦️ 1942 Alfa Romoe 6C 2500 Coupé Bertone sn 915516 - 2nd in class in 2013 
♦️ 1948 Ferrari 166 Sport Touring sn 005S - Showed in 2007 
♦️ 1949 Alfa Romeo 6C 2500 CoupE Pinin Farina sn 915769 - Best in class in 2009
♦️ 1955 Lancia Florida sn B56S1006 - Showed in 2010
♦️ 1961 OSCA 1600 GT sn 0014 - Class prize in 2014.