Rétromobile pays tribute to Cité de l'Automobile and Lopresto collection: 13 cars that have joined our lab will be on display.
January 29, 2015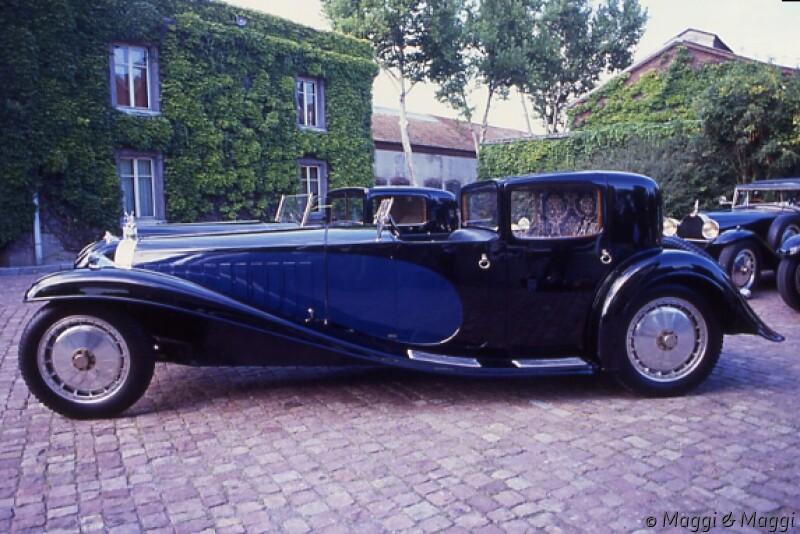 For the first time ever, the Cité de l'Automobile in Mulhouse is presenting the three Bugatti Royales at Rétromobile.
The biggest, the most beautiful, the most extraordinary, the most fabulous cars…. none of these superlatives can describe the thrill of the Bugatti Royales.
Ettore Bugatti wanted to build a car fit for a king…and he did so, although no king ever bought one.
Despite its huge size (6.5 metres long) and  its weight (3 tons), the Royale manages to be sublime and elegant. The 8 cylinder inline engine is a work of art in its own right. This « polished metal monolith » with a capacity of 12.76 litres  churns out 250 horsepower. Its enormous drivetrain quickly takes the Royale  to speeds in excess of 150 kph.
The three Bugatti Royales:
- the first is the 1929 Bugatti Type 41 Coupé Napoleon sn: 41100
This AUTOMOTIVE MASTERPIECE has joined the lab! 
The Coupé Napoléon was Ettore Bugatti's own car. Its outstanding outline is the work of Jean Bugatti, Ettore's son.
Discover it on AUTOMOTIVE MASTERPIECES exhibitions lab!

- the second is the 1932 Bugatti Type 41 Esders Replica Industrialist Armand Esders ordered a Royale chassis in 1932 and Jean Bugatti designed a stunning two-seater roadster with a length of 6.5 metres. The car was simply sublime. This Royale was then sold and its new owner changed the bodywork, replacing it with a Binder body making it into a very classic-looking chauffeur coupé. The Schlumpf brothers so liked the original Dr Armand Esders coupe body on chassis 41.111, using original Bugatti parts they had a replica made of the car.
 - the third is the 1933 Bugatti Type 41 Limousine Park Ward sn: 41131
Delivered in England in 1933, the huge chassis was fitted with bodywork by Park Ward, creating an understated but extremely sleek and elegant limousine.
Milanese architect and property developer Corrado Lopresto has spent his life tracking down and collecting prototypes and cars with unique coachwork. Since the age of 16, his passion for Italian auto design has enabled him to build up the only collection of its kind in the world.
Whereas auto enthusiasts tend to focus on great classic cars, Corrado Lopresto is interested in coachbuilders and designers. He feels that behind each prototype there's a real person, and he makes it a point of honour to supervise the restoration of his precious cars, taking care to preserve as many original features as possible so as to respect the spirit of the designer.
Retromobile pays tribute to Lopresto, presenting a dozen cars from his collection that has earned over 180 awards in the most prestigious Concours d'Elégance (Pebble Beach, Villa d'Este, Amelia Island, Goodwood and Chantilly).
Among the jewels on show from the golden age of Italian coachwork will be:
1931 Alfa Romeo 6C 1750 GS sn 10814331
1942 Alfa Romeo 6C 2500 SS Coupé (Bertone) sn 915516

1949 Alfa Romeo 6C 2500 SS Coupé (Pinin Farina) sn 915769
1952 Lancia Aurelia 2000 Coupé sn B52-1072
1955 Lancia Florida sn B56S-1006
1955 Alfa Romeo Giulietta Spider (Bertone) sn AR1495*0004
1955 Alfa Romeo Giulietta Spider (Pinin Farina) sn AR1495*0007
1960 Alfa Romeo 2000 Sprint Praho sn AR10205*00001
1961 O.S.C.A. 1600 GT sn 0014
1963 Lancia Flaminia 3C Speciale sn 826138001167
1976 Autobianchi A112 Giovani sn 99760
1978 Lancia Sibilo sn S12201
During the exhibition visitors and journalists will be able to discover the history of these exceptional cars by visiting their website by reading the QR code to the side of each car.