Tom Tjaarda's 80th birthday (23 July 2014)
July 23, 2014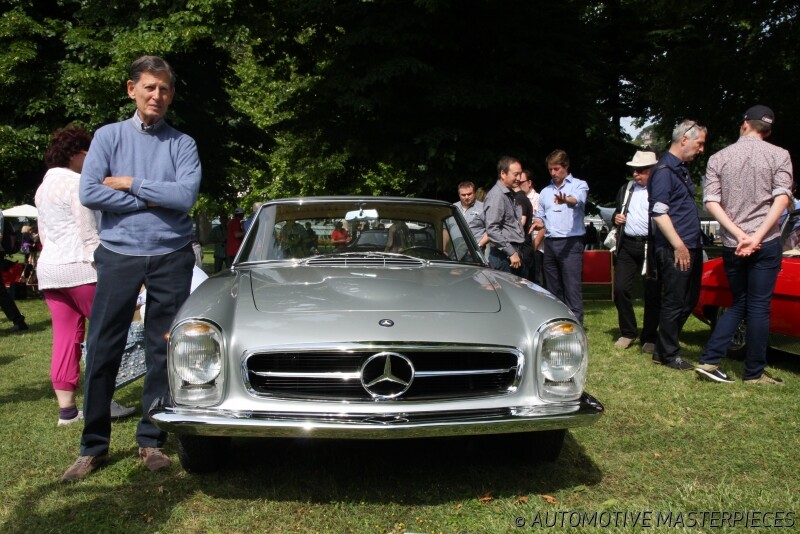 We are working on a virtual exhibition dedicated to the great designer Tom Tjaarda who turns 80 today, and to which we make our best wishes!
 The virtual exhibition on Tom Tjaarda will cover the American architect's entire career, starting from his first job at Ghia in 1959, where he completed his training in an environment full of new opportunities and stimulating suggestions for a youngster brought up on the other side of the Atlantic. He refined his sensitivity as stylist in the subsequent years, gaining a great deal of invaluable experience from working in close contact with panel beaters and assemblers belonging to a fantastic stock of extremely talented artisans. He lavished the knowledge gained, day after day, on a long series of gratifying projects, of great satisfaction to an artist like him.
The exhibition also includes the various bodywork designers for whom Tom worked with different positions and roles. Benefiting from the initial skills gained in Ghia, he joined Pininfarina, the famous international sanctuary of coachbuilders, in 1962. There, he played a part in the creation of many unique examples on the most diverse mechanics, from Fiat to Chevrolet, from Lancia to Ferrari; his most successful creation was the Fiat 124 Sport Spider, with over two hundred thousand models produced in 20 years.
 On his return to Ghia in 1969, as head of the style department, Tjaarda focused on the research he had started as a university student and outlined in his thesis. His intention was to make the structure part of the bodywork so that perfectly smooth external surfaces could be obtained. The results can be admired in two elegant Lancia prototypes that were never taken any further because of Fiat's takeover of Lancia in November 1969. Tjaarda then designed a range of De Tomaso models with different technical and construction features (some of which were marketed by Ford in the United States, with the Pantera that was also competitively successful). In 1972, he created a Wolf prototype that, reworked by engineers and specialists in Ford's style centre, was launched as the Fiesta in June 1976, becoming a formidable competitor in the 1000 cc passenger car sector in Europe.
 In 1977, after leaving Ghia and Alejandro De Tomaso, its despotic owner, Tom joined Fiat as director of the Advanced Design Studio, where the bodywork of the Autobianchi Y10 and Lancia Thema and Fiat Croma were developed. Five years later he went to Rayton Fissore in Cherasco (Turin), where he was involved in creating the Magnum 4x4 and some prototypes that resulted in the Chrysler Le Baron, Aston Martin Lagonda and Saab 900. In August 1984, Tjaarda set up his first professional studio in Turin, "Dimensione Design srl", later known as "Tjaarda Design", where he lavished his creativity on other projects including the Isotta Fraschini T8 Coupé that caused a sensation at the Paris Motor Show, in an unrealistic attempt to become part of the prestigious international car scene once again. Today, his stylistic consultancy work still continues on behalf of many international manufacturers and sets the seal on a wonderful career featuring detailed formal research and marked creative sensitivity.
The virtual exhibition will have two point of views.
Chronological point of view:
1959-today
Bodyworkatelier point of view:
Section Ghia (1959-1961)
Section Pininfarina (1962-1966)
Section Ghia (1968-1977)
Section Fiat (1977-1981)
Section Rayton-Fissore (1982-1984)
Section Dimensione Design (1984-today)
The Curators
Co-curator of the exhibition is Luciano Greggio. Milanese, he graduated from the Bocconi University and was a firm supporter of the European Union even before Europe showed signs of setting it up – his degree thesis discussed the relationships and development of the car industry in the European Market. His almost maniacal passion for the international history of the car and knowledge of the main players made him one of the leading experts of the sector for many years.
 Alongside Mr. Greggio, Sandro Binelli, enthusiast about design and history of the automobile, former organizer of the Mille Miglia from 2008 to 2012 and the concourse uniques special ones in Florence and St. Petersburg. Sandro Binelli today is General Coordinator of Automotive Masterpieces.
A special thanks to Tom Tjaarda, Tjaarda Design, Tom Tjaarda Archive, Centro Storico Fiat Archive.
 The first eligible cars on-line for this virtual exhibition are:
1963 Lancia Flaminia 3C Speciale
1969 Lancia Flaminia Marica
1973 De Tomaso Pantera II 7x Monttella
Follow the work in progress virtual exhibition keeping you up-to-date with behind-the-scenes census!