33° Gran Premio Nuvolari: another seasonal win for Vesco
September 17, 2023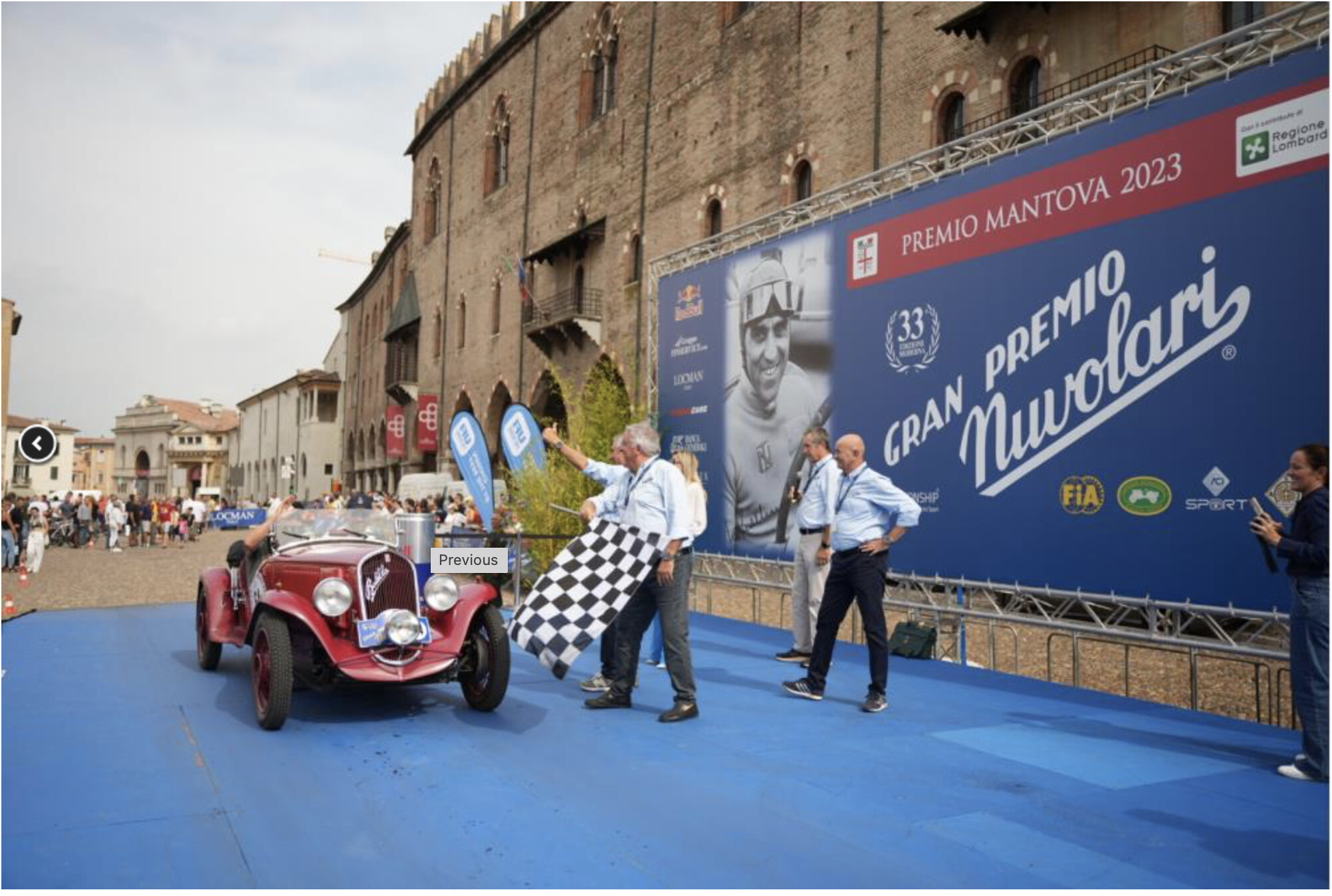 The 33rd edition of the Gran Premio Nuvolari has just ended, one of the events of the "Campionato Italiano Grandi Eventi of ACI Sport", which also includes the Coppa delle Alpi, the Coppa Milano Sanremo, the Coppa d'Oro delle Dolomiti, the Targa Florio Classica and the Circuito del Mugello.
The event, organized by Mantova Corse, proposed a route of around 1,130 km through the beauties of central and northern Italy, crossing the evocative landscapes of Lombardy, Emilia-Romagna, Marche, Tuscany and Umbria. The event recorded an excellent number of participants: in fact, 275 crews were selected, coming from all over the world; the myth of the Great Tazio lived on thanks to the numerous gentlemen drivers who shared the values of the "Mantovano Volante". Eligible cars: from 1919 to 1976, as well as a representation of modern Gran Turismos; this year more than a hundred pre-war cars took part in the event.
The victory went to crew no. 64 formed by Andrea Vesco - Roberto Vesco (son and father), driving a 1935 Fiat 508 S Balilla Sport, a car included among the Automotive Masterpieces. The two drivers stood out from the beginning, demonstrating concentration, competence and sporting spirit, in a race fought together with the best Italian and foreign regularity drivers, characterized by a sunny climate for all four days. It is their ninth victory at the Gran Premio Nuvolari. "It was a very exciting race… because only a few hundredths of a second always divided the first crews in the lead." Said Andrea Vesco.
Automotive Masterpieces' car representation doesn't stop here: there were six of "our" cars in total: in fourth place was the Fontanella-Covelli team, n° 3, on a 1927 Lancia Lambda Spider, who made an important comeback in the final. Following are the crews: Marco Gatta, Eugenio Piccinelli, n° 18, on 1926 Amilcar CGSS; Andrea Luigi Belometti, Emanuela Putelli, n° 49, on 1933 Fiat 508 Balilla Spyder tipo corsa; Paolo Bordi, Alberto Bardelli, n° 114, on 1952 Siata Daina Sport; Gerard Bas, Trinetta Bas Van Oijen, n° 127, on 1954 Arnolt Bristol Bolide.
The "Gran Premio Nuvolari Green" initiative was proposed again this year, an ecologisation action carried out under the patronage of the Municipality of Mantova. The environmental impact caused by the circulation of the historic cars participating in the event will be offset by the planting, in selected areas, of a sufficient number of tall trees to balance the total amount of CO2 emitted.

Photos Copyright ©️ 2006-2023 Mantova Corse - Mantova - Italy