The 90th Anniversary of the Touring Superleggera was celebrated in Padova
October 24, 2016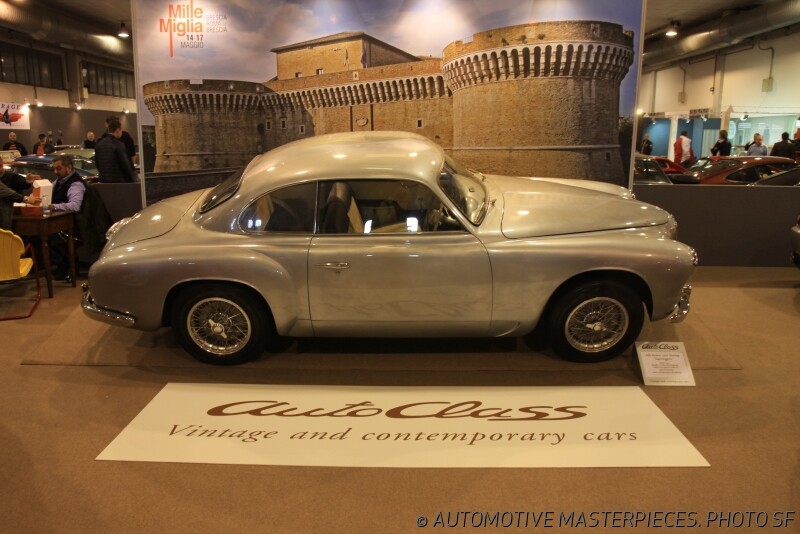 At Auto e Moto d'Epoca the charm of heritage is united with previews of contemporary cars based on passion that unites past and future and the continuous innovation that keeps them united.
The Registro Internationale Touring Superleggera showed two absolute masterpieces: the Ferrari Sport 166 MM Barchetta – the first Ferrari which marked the birth of the prancing horse – and the first production Lamborghini, the 350 GT.
The most beautiful Alfa Romeos, Lancia and the Aston Martin DB4 were also exhibited to celebrate the presentation of the book, edited by Fucina, which covers 90 years of the birth of the Touring Superleggera. 
The masterpieces on display would have deserved more space by the organization of the fair. 
The tradition of the Mercedes-Benz star in Motorsport was celebrated, from the legendary one-seater W196 to the 450 SLC 'Bandama', from the one-seater used in the F1 world championship 2016 to the new Mercedes- AMG GT.  And the cars that marked a jump in quality was one of the themes of the 2016 show - models that proved to be forerunners introducing completely new technologies that would later become production standards.
These include the Circolo Patavino Autostoriche, with the first vehicle made in Italy: the Bernardi motorcycle made in 1894 by the University of Padua alongside an Instant Classic Lamborghini to underline the incredible evolution in little more than a century of automotive history. The precursors brought by the A.A.V.S., on the other hand, include the Diatto 150S made in 1925 - the first with independent suspensions -, the Chiribiri made in 1925 – which introduced the dual overhead camshaft engine - and the Cord L29 made in 1929 - the first rear-wheel drive vehicle.  
The ASI showed the Triumph TR3A used in the movie "La Dolce Vita".
 The Scuderia Jaguar Storiche displayed the car which, in 1955, appeared on the cover of the New Year edition of the American magazine, Car Life. It was an incredible pink XK120 OTS that was used as the star in the artistic ice- skating show Icycles of 1955.   
Three cars showed at the event are already counted among the AUTOMOTIVE MASTERPIECES: 
♦️ 1924 Alfa Romeo RL Targa Florio sn: TF11
♦️ 1958 Maserati 420/M/58 Eldorado sn: 4203
♦️ 1962 Ferrari 250 GTE Polizia sn: 3999GT