A tribute to the memory of the "Grande Nivola"
September 19, 2016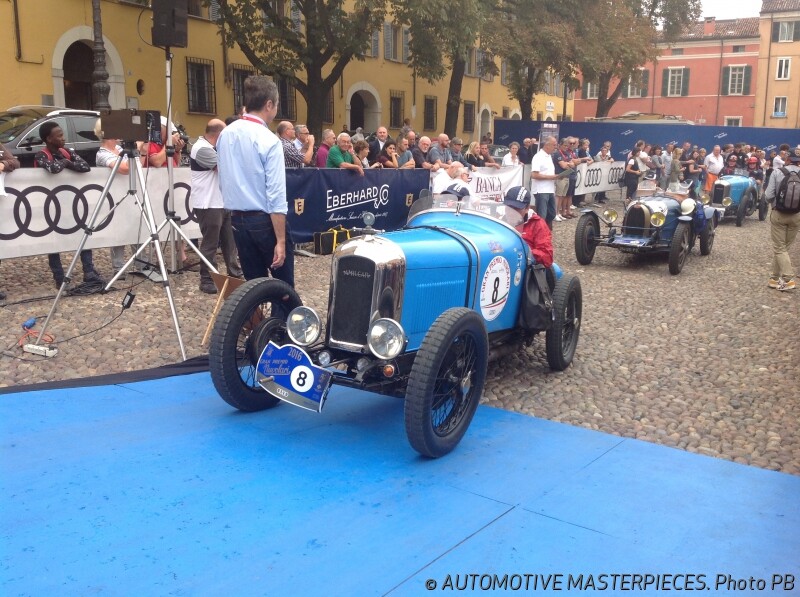 They were linked by a close bond of affection and they felt deep consideration and admiration toward this great "man-champion". They also were grateful to him because he contributed a lot to the unrestrainable growing of their "creature". To honor his memory, the traditional itinerary of the Mille Miglia was changed in order to get it pass through Mantova.
Since then the Gran Premio Nuvolari was established in order to give a price to the fastest driver, on the route along the impressive straight roads which cross "The Po Valley", starting from Cremona, through Mantova until the finish in Brescia. After the four historical editions, from 1954 to 1957, today 25 revivals of the Gran Premio Nuvolari are to be added. The formula: an international rally reserved to historical cars. Several AUTOMOTIVE MASTERPIECES ran this important tribute to the memory of the "Grande Nivola".
Mantua, the Italian City of Culture for 2016 celebrates the fifth consecutive victory of the racing team composed by the drivers Andrea Vesco and Andrea Guerini at the Gran Premio Nuvolari.
The two have been the protagonists of a perfect race, won for just few penalties against the second ranked, the Volvo P120 driven by the Italian pilots Margiotta and Perno. A remarkable weekend, where the real winner has actually been the Gran Premio Nuvolari, the regularity race that involved more than 300 vintage cars, built by 50 motor companies and coming from 18 different Countries in the world. Once again, thanks to the intense support and presence of the public, the historical race it's confirmed as one of the most important for vintage cars in the world.
Also the 26th edition of the race confirms its successful format organized by Mantova Corse, ACI Mantova and the Tazio Nuvolari Museum. The event every year acquires more and more popularity in Italy and abroad, also thanks to the great contribution of partners like Audi, main partner with its Audi Tradition Department and the legendary car that belonged to Tazio Nuvolari, the Auto Union Type D from 1939. A warrant for punctuality and number of presences, the Swiss company Eberhard & Co. that from the very first edition has been partner and official timekeeper of the competition for classic cars. Also for this year its timepieces will be the prize for the winners: two chronographers of the special collection "Tazio Nuvolari". Last but not least, a special thanks also goes to Banca Generali and Michelin Classics that presented in Mantua its line of tires for vintage cars.
 AUTOMOTIVE MASTERPIECES will celebrate the 130th Anniversary of the birth of Tazio Giorgio Nuvolari (1892-1953) in 2022 and the 70th Anniversary of the 1st Gran Premio Nuvolari in 2024 with two special virtual exhibitions.  The first owner of this AUTOMOTIVE MASTERPIECE was Tazio Nuvolari: 
♦️ 1933 Alfa Romeo 8C 2300 Monza sn: 2211137
 Ten cars participated in the Gran Premio Nuvolari in the historical editions have already counted among the AUTOMOTIVE MASTERPIECES:
♦️ 1954 Fiat 1100 TV GT - Pinin Farina sn: 103tv045281
♦️ 1954 Ferrari 500 Mondial Spider - Pinin Farina / Scaglietti sn: 0410MD
♦️ 1954 O.S.C.A. MT4-2AD - Morelli sn: 1151
♦️ 1954 Autobleu 750 Mille Miles - Carrosserie G.T.R. - sn: 195475
♦️ 1954 Fiat 8V - Vignale - sn: 106.000052
♦️ 1955 Ermini 357 1500 Sport sn: 1555
♦️ 1955 Alfa Romeo 1900 Super Sprint - Zagato sn: AR1900C01931
♦️ 1955 Alfa Romeo 1900 Super Sprint - Zagato sn: AR1900C02060
♦️ 1956 Panhard Monopole X86 sn: 857976
♦️ 1957 Alfa Romeo Giulietta Sprint Veloce - Bertone sn: 1493E04349AR
 Six cars that ran the 2016 revival of Gran Premio Nuvolari have already counted among the AUTOMOTIVE MASTERPIECES: 
♦️ 1926 Amilcar CGSS - Boone & Porter sn: 41097 (n. 8 Gatta/Piccinelli)
♦️ 1927 B.N.C. Type 527 Sport Monza - Duval sn: 27082 n. 14 Murru/Destro Castaniti)
♦️ 1927 Aston Martin Le Mans 2/4 seater - Enrico Bertelli - sn: F3/280/S (n. 38 Grossi/Salvinelli)
♦️ 1954 Arnolt Bristol Two Litres Bolide sn: 404X3076 (n. 145 Bas/Bas)
♦️ 1955 Lancia Aurelia B24S Spider - Pinin Farina - sn: B24S-1173 (n. 177 de Sanctis/de Sanctis)
♦️ 1938/2006 Lancia Aprilia Sport Zagato Sanction II sn: 23850007 (n. 65 Curridor/Messina)