Bellissima! The Italian Automotive Renaissance, 1945–1975
August 10, 2016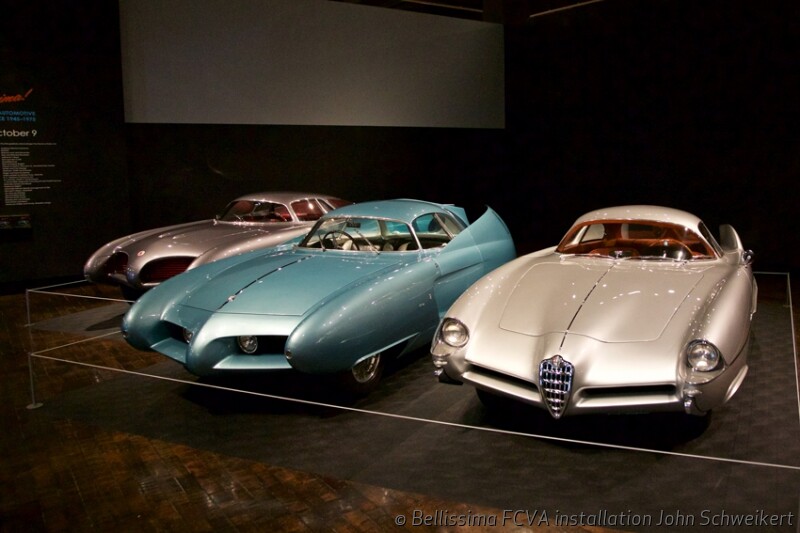 Bellissima!
The Italian Automotive Renaissance, 1945–1975 - opened May 27, 2016, at Nashville's Frist Center for the Visual Arts - marks an unprecedented gathering of rare and stunning Italian-designed automobiles and motorcycles in a museum setting. The exhibition celebrates the streamlined elegance, novel and powerful engineering, and seductive allure characterizing Italian coachbuilt cars, concept cars, and motorcycles produced during the post–World War II economic revival. On view only at the Frist Center through October 9, 2016, Bellissima! boasts 22 extraordinary vehicles from private collections and museums that are now among the most sought-after collector cars in the world.
Returning to the Frist Center after the 2013 presentation of Sensuous Steel: Art Deco Automobiles, automotive authority and guest curator Ken Gross has chosen 19 automobiles and 3 motorcycles for Bellissima!. Moving from one gem to another, visitors will experience the creative connections and brilliant design language that helped propel Italy to the global forefront of the automotive world.
Highlights include the ultra-rare trio of mid-1950s Alfa Romeo Berlinetta Aerodinamica Tecnicas, known as BATs, whose curvaceous fins and tapered tails suggest the curving wings and bullet-like bodies of bats in flight. The 1962 Ferrari 250 GTO is considered by design critic and exhibition catalogue contributor Robert Cumberford to be "the most desirable of all sports cars ever made." The game-changing Lamborghini Miura, celebrating its 50th anniversary this year, is a technical tour de force and as Ken Gross writes in the exhibition catalogue, "resembles a stiletto on cast magnesium wheels."
Lesser-known vehicles in the exhibition will offer surprises for even the most knowledgeable car aficionados. The drastically slender 1970 Lancia Stratos' mere 33-inch-tall wedge-shaped body has doors that open vertically rather than swinging outward. The futuristic, arrow-shaped 1955 Ghia Gilda, named for Rita Hayworth's slinky character in the film Gilda, has an elongated hood, snug cockpit, pointy rear fenders and jet-like engine whine that evoke advanced aircraft design.
Four cars on dispay are counted among the AUTOMOTIVE MASTERPIECES:
♦️ 1945 Alfa Romeo 6C 2500 Cabriolet Speciale (Pinin Farina) sn: 915169
♦️ 1953 Alfa Romeo B.A.T. 5 (Bertone) sn: 01396
♦️ 1954 Alfa Romeo B.A.T. 7 (Bertone) sn: 01485
♦️ 1955 Alfa Romeo B.A.T. 9d (Bertone) sn: 01600
 Exhibition Checklist
Bella Berlinettas
1950 Cisitalia 202 SC
1953 Fiat 8V Supersonic
1955 Maserati A6G 2000 Zagato
Berlinettas: The BATs
1953 Alfa Romeo BAT 5
1954 Alfa Romeo BAT 7
1955 Alfa Romeo BAT 9
Styling Gems
1946 Alfa Romeo 6C 2500 S
1952 Lancia B52 Aurelia PF200 Spider
1961 Ferrari 400 Superamerica
Il Ultimo
1962 Ferrari 250 GTO
Wedge-Shaped Cars
1955 Chrysler Ghia Gilda
1970 Lancia Stratos HF Zero
1966 Ferrari 365 P Tre Posti
Italian and American Excitement
1952 Cunningham C3 Continental
1955 Lincoln Indianapolis
1963 Chrysler Turbine Car
Mid-Engine Marvels
1963 ATS 2500 GT
1968 Bizzarrini 5300 Strada
1970 Lamborghini Miura S
On Two Wheels
1957 Moto Guzzi V-8
1973 MV Agusta 750 Sport
1974 Ducati 750 Super Sport