Mercedes-Benz celebrates 60th anniversary of the Mille Miglia victory of 1955: Stirling Moss and Hans Herrmann in the Mercedes-Benz 300 SLR
May 13, 2015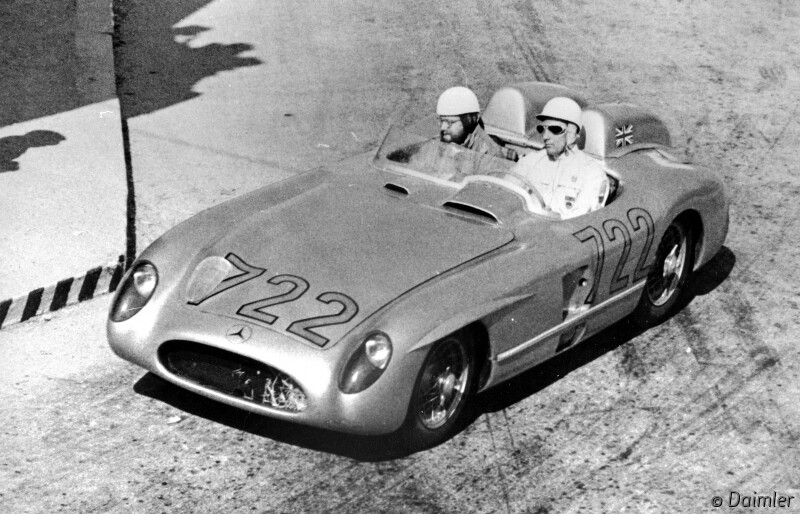 Some 60 years after Mercedes-Benz's triumph at the Mille Miglia, three of the greatest heroes of the thousand-mile race in 1955 are returning to the route between Brescia and Rome: together with the legendary Mercedes-Benz 300 SLR (W 196 S) racing car, Mercedes-Benz racing drivers Stirling Moss and Hans Herrmann are remembering the 1955 race at this year's Mille Miglia event, which is being held between 14 and 17 May 2015.
Back then the young Brit Moss won this furious Italian road race with his co-driver Denis Jenkinson in the fastest ever time of 10 hours, 7 minutes and 48 seconds over a distance of around 1,600 kilometres. Hans Herrmann, on the other hand, was the hapless hero at Mille Miglia 60 years ago as he was in an excellent second place at the wheel of his 300 SLR, likewise with a chance of victory, when an unfortunate defect ended his race on the Passo di Futa.
As a high-ranking regularity race for classic cars, the 33rd nostalgic Mille Miglia in May 2015 – the 60th event overall to bear this name – keeps alive the memory of the historic road race staged between 1927 and 1957. The appearance of the original 300 SLR racing cars with the Mercedes-Benz Brand Ambassadors Sir Stirling Moss, Hans Herrmann, and Ralf Schumacher at the wheel are exclusive highlights of this year's event.
A poignant reunion in Brescia: at the Mille Miglia 2015, the conquering and hapless heroes of 1955 are returning to the scene of one of the greatest races of all time at the wheel of original Mercedes-Benz 300 SLR racing cars. For this year's Mille Miglia event staged between 14 and 17 May 2015, Sir Stirling Moss is a guest at the wheel of the very same original car with starting number 722 in which he won the legendary Italian road race from Brescia to Rome and back in the best ever time 60 years ago. At his side is then team-mate Hans Herrmann – who six decades ago was likewise a hot contender for victory in the thousand-mile race. The talented driver from Stuttgart put in a stunning performance in 1955, but his race ended due to an unfortunate defect on the Passo di Futa while lying in second place.
The third Mercedes-Benz Brand Ambassador to line up on the Mille Miglia route is former Mercedes-Benz DTM racing driver Ralf Schumacher, also in the 300 SLR. The authentic racing cars are making their unique guest appearances in Brescia, Sirmione, San Marino, Rome and Siena during the course of the historic regularity race.