The 80th Alfa Romeo 6C 2300 1934-1939
March 21, 2014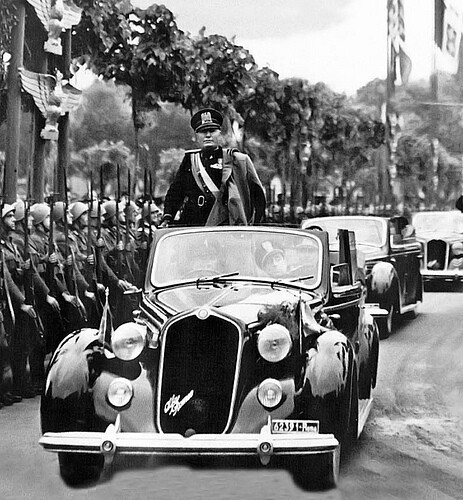 The 6C 2300 (2309 cc) was designed by Vittorio Jano as a cheaper alternative to the 8C. In 1934. Alfa Romeo had become a state-owned enterprise. This year was presented a new 6C model with a newly designed, larger engine. Chassis technology, however, had been taken from the predecessor. One year later, a revised model, called the 6C 2300 B was presented.
Most of the Alfa Romeo 6C 2300 chassis were bodied by local Milan coachbuilders like Touring and Castagna, but a few chassis were sent to the Turin-based workshops of Stabilimenti Farina and Pinin Farina. Among others also the German Glaser and the Swiss Carrosserie Worblaufen built extravagant convertible bodies on 6C 2300 chassis.
The sporting character of the new 6C was demonstrated by competition success, first in the Mille Miglia in 1937 where Giovanbattista Guidotti  and Mussolini's chauffeur Ercole Boratto finished fourth overall. Guidotti's drive in the 6C 2300 earned Alfa the important "National Touring" class laurels.
AUTOMOTIVE MASTERPIECES exhibitions lab decided to launch this virtual exhibition with the first cars before April 14, 2014 to remember the first debut at Milan Motor Show on April 14,1934.
This census begin collecting data of all 6C 2300 built, remained, destroyed and missing.
Curator will be the well-known historian Alfa Romeo Maurizio Tabucchi.
A special thanks to the Registro Internazionale Superleggera, the Registro Internazionale Alfa Romeo 6C 2500, the Bianchi Anderloni Family Archive and the Alfa Blue Team for the cooperation.
The first car is the 1938 Alfa Romeo 6C 2300 B Lungo #814279.
Follow the work in progress virtual exhibition keeping you up-to-date with behind-the-scenes census!