Concorso Nazionale di Eleganza per automobili - Parco del Valentino, the oldest organized in Italy.
September 5, 2014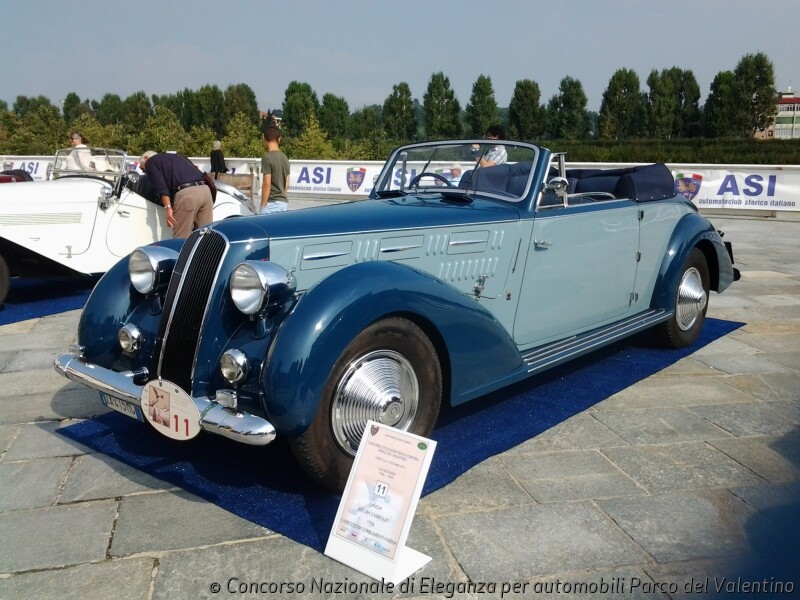 Won the "Best of Show" in the "Concorso Nazionale di Eleganza per automobili - Parco del Valentino" organized by ASI - Automotoclub Storico Italiano,  1947 Alfa Romeo 6C 2500 SS Carrozzeria Touring.
The concours was held in Turin September 5 to 7.
 This wonderful car is eligible for the following virtual exhibitions:
2016: 80th Anniversary of the Metodo Superleggera by Carrozzeria Touring (1936)
2016: 100th Anniversary of the birth of Carlo Felice "Cici" Bianchi Anderloni (1916-2003)
1926-2016: 90 years of Carrozzeria Touring
2019: 80th Anniversary of the Alfa Romeo 6C 2500 (1939-1952)
2022: 140th Anniversary of the birth of Felice Bianchi Anderloni (1882-1948)
among others.
 The jury - composed by Lorenzo Ramaciotti, General Manager Centro Stile Fiat, Aldo Brovarone, former Head of Centro Stile Pininfarina, Fabio Filippini, head of Centro Stile Pininfarina, Roberto Giolito, Head of Fiat Style, Ercole Spada, Former Head Style of Zagato and Tom Tjaarda, designer - after a long consultation session decided to award the car to an Italian collector who has found this beautiful Alfa Romeo in a French museum.
The award "City of Turin Trophy" went to 1942 Romeo 6C 2500 SS coupé Bertone The same car also won the prize "Elegance lines" raffled by ASI.
The car has already become part of the selection of AUTOMOTIVE MASTERPIECES and will participate in the virtual exhibition on the 130th Anniversary of the birth of Giovanni Bertone (1884-1972).
 Also of note the awarding of the prize "Midsummer Dream" won by the 1936 Lancia Astura Tipo 233 Cabriolet coachwork by Stabilimenti Farina.
 The concours aims to revive what was the oldest Concorso d'Eleganza for Cars organized in Italy. The first edition of which took place on May 21, 1923 at the Parco del Valentino, where 45 beautiful cars paraded before the King Vittorio Emanuele III.
The concours was repeated the following year. Then, after a break of four years, on 1 November 1928 was organized on a regular basis until terminated due at the beginning of World War II.
 AUTOMOTIVE MASTERPIECES will attempt to census the cars that took part in the historic editions and celebrate them in 2023 at the occasion of the 100th Anniversary of the 1st concours.