1954 Ferrari 375 MM Scaglietti Coupé ex Rossellini won Pebble Beach Concours d'Elegance
August 18, 2014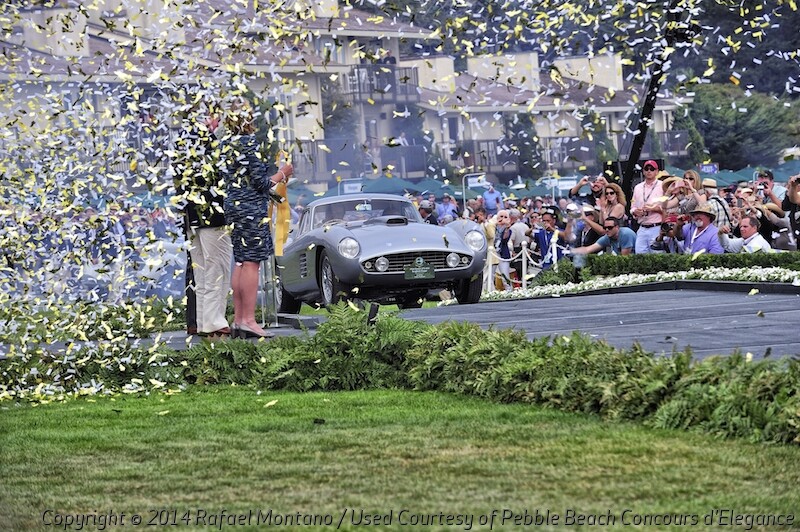 Excited cheers echoed across the 18th fairway of Pebble Beach Golf Links Sunday when a 1954 Ferrari 375 MM Scaglietti Coupé was named Best of Show at the 64thannual Pebble Beach Concours d'Elegance. The car, owned by Jon Shirley of Medina, Washington, was the first postwar car to take the top award at the prestigious event in nearly five decades. It was also the first Ferrari to win.
 Many competition versions of the Ferrari 375 MM were built, but this is one of five road-going cars and probably the most famous. It was ordered by film director Roberto Rossellini, one of Ferrari's best customers, and started life as a Pinin Farina–bodied competition Spyder (0402AM). Rossellini drove it sparingly until an accident; the original body was beyond saving and the chassis was sent to Carrozzeria Scaglietti in Modena for a replacement. This car became Scaglietti's first passenger car design for Ferrari, a unique and finely sculpted Coupé Speciale. Scaglietti worked with a thin metal lattice, on which the aluminium panels were formed. After Rossellini, the car passed to Mario Savona of Palermo and then Charles Robert of Paris in 1970. It was later discovered rather unloved in an underground garage in a Paris suburb, and sold. Its current owner restored it in 1995. It has won numerous awards, including First in Class and the Luigi Chinetti Memorial Award at the Pebble Beach Concours d'Elegance in 1998. 
 The 2014 Pebble Beach Concours d'Elegance showcased 216 cars and most of them are real AUTOMOTIVE MASTERPIECES. The event marked the centennial of Maserati and included first-time features of Ruxtons, the first American passenger cars with front-wheel drive, and Streamlined Tatras, technological wonders built in Czechoslovakia. A jaw-dropping display of 20 Ferrari 250 Testa Rossas was placed at one end of the show field, and cars exhibiting the curvaceous coachwork of Fernandez et Darrin posed at the edge of Carmel Bay. There were also special classes for Postwar Rolls-Royce Phantoms and Eastern European Motorcycles, and a display honoring cars that participated in the 1914 French Grand Prix.
The judging process at the Pebble Beach Concours is two-fold: Class Judges focus primarily on originality and authenticity, while Honorary Judges direct their attention to design, styling and elegance. To be eligible to win Best of Show—the event's top award—a car must first win its class. Other nominees for Best of Show included a 1934 Hispano-Suiza J12 Fernandez et Darrin Coupé de Ville owned by Robert M and Anne Brockinton Lee of Reno, Nevada; a 1934 Packard Twelve Dietrich Convertible Victoria owned by Frank and Milli Ricciardelli of Sarasota, Florida; and a 1937 Rolls-Royce Phantom III Vanvooren Sports Cabriolet owned by Lord Bamford of Gloucestershire, England.
AUTOMOTIVE MASTERPIECES will celebrate the Pebble Beach Concours d'Elegance, First conducted in 1950, with a special virtual exhibition in 2020: 70 years of Pebble Beach Concours d'Elegance. In the same year a special virtual exhibition will be dedicated to the 70th Anniversary of the Pebble Beach Road Race (1950-1956).
The following vehicles have already joined the lab and participated in the Pebble Beach Concours d'Elegance in recent editions. 1929 Bugatti Type 41 Royale Napoleon - chassis n.: 411001985 Pebble Beach Concours d'Elegance - That year Pebble Beach hosted a fantastic reunion that brought together all six of the surviving Royales.
 1942 Alfa Romeo 6C 2500 SS Coupé -  chassis n.: 915516 - Coachbuider: Bertone
2010 Pebble Beach Concours d'Elegance - Class E1 - Alfa Romeo Centennial - Best in Class 1947 Alfa Romeo 6C 2500 S Cabriolet  - chassis n.: 915339 - Coachbuider: Stabilimenti Farina2005 Pebble Beach Concours d'Elegance 1949 Alfa Romeo 6C 2500 SS Coupé  - chassis n.: 915769 - Coachbuider: Pinin Farina2010 Pebble Beach Concours d'Elegance 1950 Abarth 204A/205A Berlinetta - chssis n.:  205-101 - Coachbuider: Vignale1989 Pebble Beach Concours d'Elegance - Class O1 - 2nd in Class 1955 Alfa Romeo Giulietta Spider Prototype - chassis n.:  14950004 - Coachbuider: Bertone2005 Pebble Beach Concours d'Elegance - Class E-7 - Alfa Romeo postwar - 3rd in Class 1963 Lancia Flaminia 3C Speciale - chassis n.:  826138001167 - Coachbuider: Pininfarina1989 Pebble Beach Concours d'Elegance - Class 1955-1963 Italian Coachbiulders - 3rd in ClassFollow the work in progress virtual exhibitions keeping you up-to-date with behind-the-scenes census!