The futuristic Carabo at the Milano Design Week 2023
April 21, 2023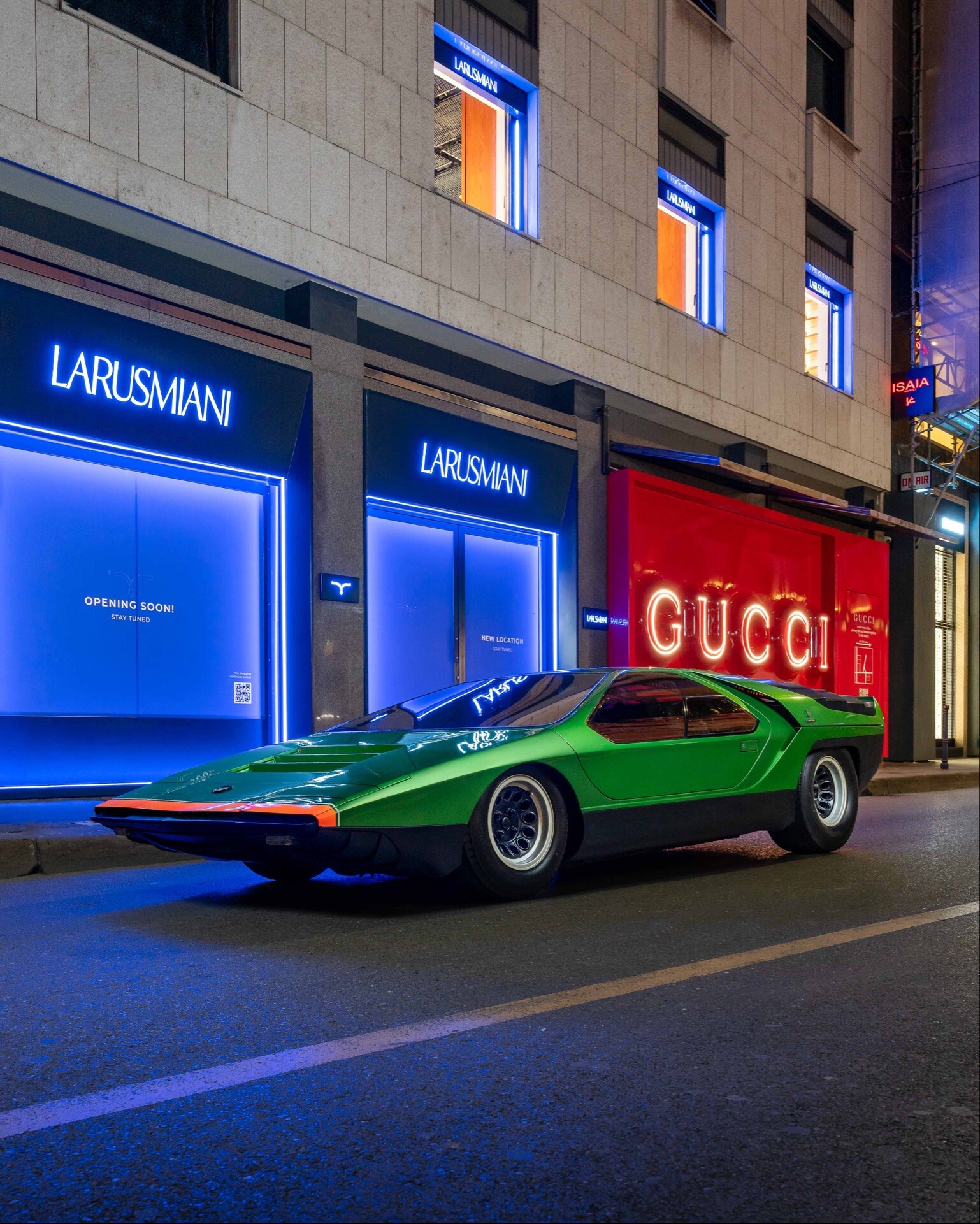 As part of the week when Milan celebrates design, Alfa Romeo – the epitome of noble Italian sportiness since 1910 – is featuring with one of its most precious gems: the 1968 Alfa Romeo Carabo. The exclusive event that brought Alfa Romeo into Milano Design Week was the opening of the new LARUSMIANI boutique, historic brand and big name for over a century in Milanese elegance and the quality of the MonteNapoleone District.
The new LARUSMIANI Boutique was designed in collaboration with the renowned architect Benedetto Camerana, who headed the 2015 renovations of the Museo Alfa Romeo in Arese, where the Carabo is usually on display. As well as embellishing the opening of the distinctive new boutique, the Alfa Romeo concept car is the first vehicle to be included in "The Automotive Gallery" project: a permanent exhibition area within the store, focused on the automotive world. Alfa Romeo and LARUSMIANI are also two ambassadors for Made in Italy around the world, united – among other factors – by their strong bond with Milan. The two brands have managed to bring about products that have become part of the collective unconscious, as icons of style, quality, elegance, and craftsmanship.
Designed by Marcello Gandini and built by Bertone, the Carabo was a concept car based on the mechanics of the iconic Alfa Romeo 33 Stradale. In the futuristic Carabo prototype the height remained very low, at less than one meter, but the style was turned upside down: the rounded lines had disappeared completely. Everything in the Carabo is clear-cut, from the wedge design to its "scissor" doors. The one-off prototype became a source of inspiration for many other successful cars. The name Carabo was inspired by "Carabus Auratus", a brightly metallic-colored beetle. The same hues are used in the style prototype: luminescent green with orange details.
Raffaele Russo, Managing Director of Alfa Romeo in Italy, stated: "I'm sure that the inclusion of our futuristic Carabo here will arouse great amazement among the participants in Milano Design Week. And I'm just as sure that an item of such great stylistic value will in itself serve as an invitation to all enthusiasts for Made in Italy to visit the fascinating Museo Alfa Romeo in Arese, the home of extraordinary cars that have written indelible chapters in automotive history."