12 cars counted among the Automotive Masterpieces at the Stefano Ricci Heritage Trophy
September 10, 2018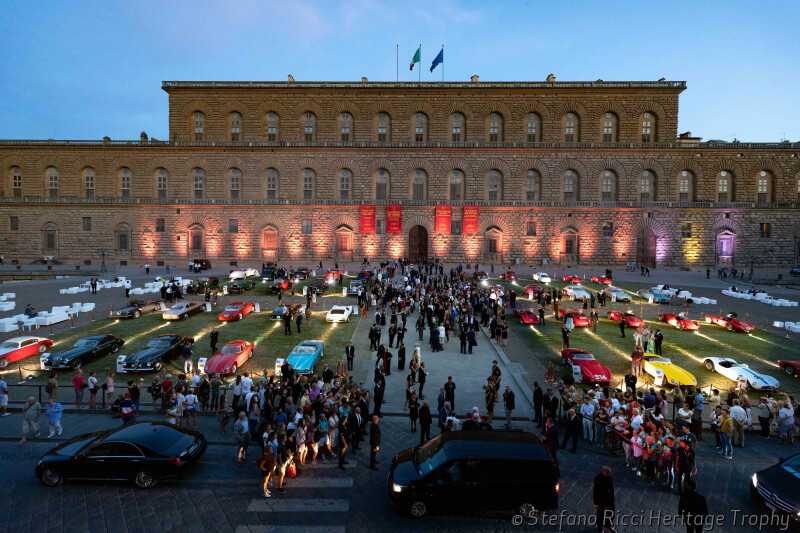 The second edition of the "Stefano Ricci Heritage Trophy" finished with great success in the Piazza Pitti where, over the weekend, forty dream cars from prestigious international collections were exhibited. A constant flow of visitors led to thousands of Florentines and tourists who were able to admire the masterpieces of mechanical genius. 
The "Best of" trophy for the "Sport" category (exclusively composed of cars that raced in the original Mille Miglia) was awarded to the 1954 Maserati A6 GCS Pinin Farina, chassis 2059, from the Destriero Collection, while the trophy for the "Elegance" category was awarded to the 1937 Lancia Astura IV Serie Convertible Pinin Farina, chassis 41-2909, owned by Saulius Karosas. 
This initiative, revived by the Florentine designer, was a tribute to the elegance found in these representative automobiles that were produced between the 1920s and 1970s. 
Automotive Masterpieces was in first line among those making the difficult and delicate selection of the cars for the event. 
The public was able to discover the whole history of the cars by visiting the dedicated website, downloading the AUTOMOTIVE MASTERPIECES APP and receiving the feed with the link to the site directly from the cars, thanks to the beacons positioned on them and to BLE (Bluetooth Low Energy) technology. A real experiential journey that is commonly referred to as the "Internet of Things": the past that meets the future. 
Twelve of the forty dream cars are already counted among the Automotive Masterpieces, while as many are Automotive Masterpieces "work in progress" at the moment. Among the twelve already counted we name, for example, the Alfa Romeo 1900 C Super Sprint Zagato, chassis 01931, the 1947 Cisitalia 202 Spyder Sport Special, chassis 002S, the 1954 Ferrari 500 Mondial Spyder, chassis 0410MD, the 1953 Fiat 8V Zagato, chassis 106.000059, the O.S.C.A. MT4-2AD, chassis 1146. 
The awards ceremony opened the evening of the Celebrity Fight Night at Palazzo Pitti, backed by the Andrea Bocelli Foundation and by the Mohamed Alì Parkinson Center with the support of Stefano Ricci S.p.A. and the Antico Setificio Fiorentino.