Concorso d'Eleganza Villa d'Este 2018 as "Hollywood on the Lake": marvelous historic cars on show
May 31, 2018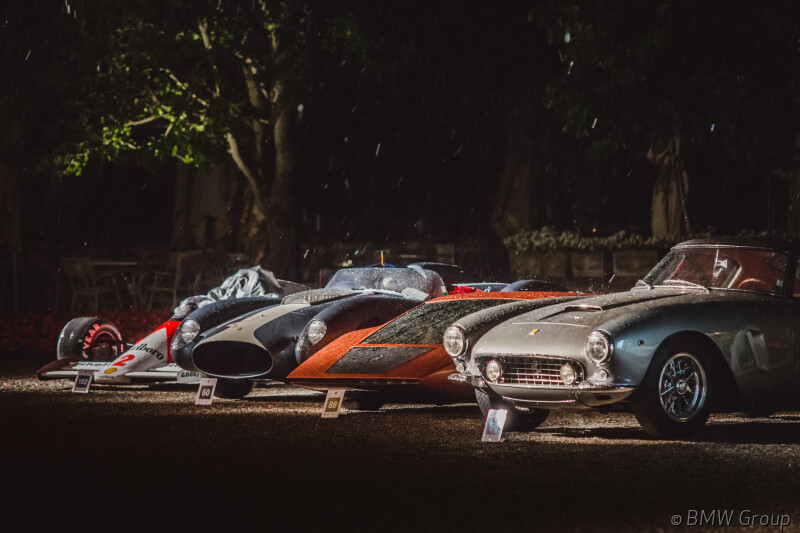 At one time the fastest, today the most beautiful. The award "Best of Show" for the Ferrari 335 Sport gave the competition's most prestigious award to a vehicle made in Italy for the fifth time in succession. The vehicle convinced the Jury with its outstanding engineering and perfectly restored condition. 
The Ferrari 335 Sport was presented in the class "Speed Meets Style: The Flowering of the Sports and the Racing Cars", which included cars from the 1950s and 1960s with spectacular driving performance and sublimely sculpted elegant lines. 
The winning automobile of the Concorso d'Eleganza Villa d'Este 2018 is the youngest of only four cars of this type ever built. The tubular steel frame is styled with an outer skin produced in aluminium by coachbuilder Carrozzeria Scaglietti. The car shown was produced in 1958 and an advanced V12 engine was installed with power enhanced to 430 hp, capable of a top speed of more than 300 km/h. 
The trophy with the most traditional heritage of the competition was once again awarded on the basis of a public referendum. The winner of the Coppa d'Oro Villa d'Este was the Alfa Romeo 33/2 Stradale from 1968, nominated in the award class "New World, new Ideas: The Story of the GT". Visitors to the parkland of Villa d'Este were captivated by the swept body contours of the mid-engine coupé, which is just 99 centimetres high, and by the sound of its 230 hp V8 engine. The winning vehicle is just one of twelve cars of this model to be bodied by the Bertone designer of the time, Franco Scaglione. The lightweight chassis and aluminium outer skin meant that the two-seater only weighed 700 kilograms. 
The Alfa Romeo 33/2 Stradale also won the Trofeo BMW Group Italia, awarded by the visitors to the grounds of Villa Erba by public referendum. Moreover, it also captured the taste of young visitors, who voted the automobile winner of the Trofeo BMW Group Ragazzi.
In the spirit of the event motto "Hollywood on the Lake", visitors were transported back in time. 
Starring in the Class B -From Manhattan to Mayfair: The Golden Age of Motoring Opulence- a car counted among the AUTOMOTIVE MASTERPIECIES: the sumptuous 1937 Mercedes-Benz 540K Cabriolet A, chassis 169363, from the Tiriac Collection. 
Cinematically choreographed parades and a number of special exhibitions attracted thousands of visitors. Film music accompanied the finale of the beauty pageant under the motto "Hollywood on the Lake", while the picturesque backdrop formed by Lake Como, the magnificent atmosphere of the Grand Hotel Villa d'Este and the extensive parkland of Villa Erba created the perfect setting.
A total of 50 classic automobiles alongside 25 motorcycles and five sidecar combinations from all eras presented a panorama of vehicle history. The exclusive field of participants and the stylish presentation of the competing vehicles once again defined the character of the event.