1951 Ferrari 340 America Barchetta tops the lots at RM Sotheby's €27.5 million Monaco sale
May 16, 2016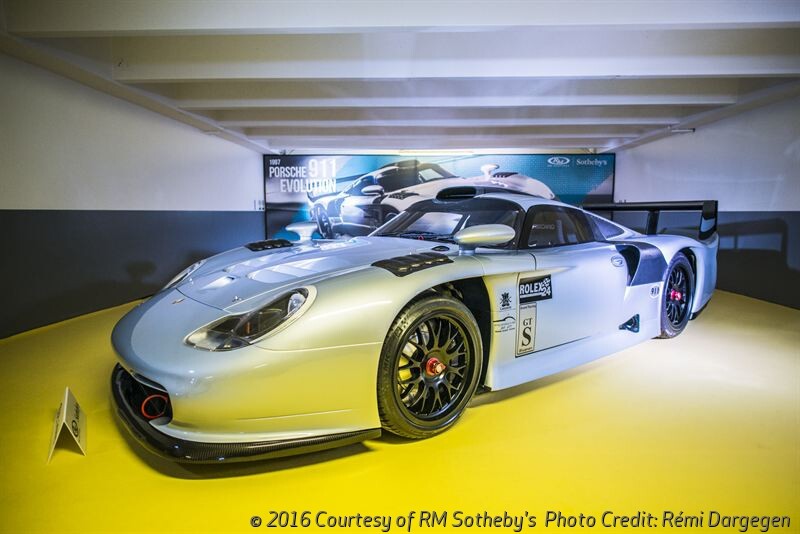 MONACO (16 May, 2016) - RM Sotheby's,  returned to Monaco this past weekend (14 May) for another successful sale alongside the Grand Prix Historique. Conducting two separate sales sessions during a single day, RM's 2016 Monaco tally exceeded €27.5 million* ($31,187,305 US)and saw several records tumble.
All eyes were on the star lots offered during Saturday's evening sale, which was packed with an audience of international bidders, creating the electric atmosphere that we have come to expect from the magnificent Le Sporting venue. The top sale of the night was the 1951 Ferrari 340 America Touring Barchetta, chassis no. 0116/A, known as one of the first 'big engine' competition Ferraris. Boasting an exceptional competition pedigree, it was raced in the 1951 and 1952 Le Mans 24 Hours and entered in nine Mille Miglia road rallies from 1984 to 2006, and deserved to make €7.280.000. The second highest price paid on the night was for the incredible 1997 Porsche 911 GT1 Evolution, chassis no. GT1 993-117, the only known road-registered example, and one of just 14 GT1 race cars in private hands.  Also boasting an extensive competition history, the GT1 came to auction following a recent comprehensive restoration, passing onto its third owner for a record-breaking €2.772.000. Rounding out the top three sales was the beautiful and incredibly original 1966 Ferrari 275 GTS, chassis no. 07805, a very desirable car which realized €1.792.000.
Earlier in the day, eager enthusiasts took their seats for the sale of the famous Italian Quattroruote Collection, which contained an eclectic mix of 37 cars, motorcycles and memorabilia, all offered without reserve. The collection sold well and was headlined by the beautiful 1939 Bugatti Type 57 Cabriolet, chassis no. 57731, which exceeded estimate at a strong €660.800. The imposing 1930 Hispano-Suiza H6B Coupé Limousine, chassis no. 12306, was the second most valuable car in the collection, bringing a final €106.400.
Proving that demand for modern era supercars remains strong, other notable sales included the 2004 Aston Martin DB AR1 for an auction record-breaking €336.000, while the 1995 Lamborghini Diablo SE30 Jotaalso soared past high estimate to bring €672.000 – a record for a Diablo at auction. The 2001 Ferrari 550 Barchetta Pininfarina was another notable sale, achieving an excellent, above-estimate €504.000.
RM Sotheby's Monaco 2016 – Top 10 Sales
1.     Lot 232 - 1951 Ferrari 340 America Barchetta: €7.280.000
2.     Lot 261 - 1997 Porsche 911 GT1 Evolution:  €2.772.000
3.     Lot 243 - 1966 Ferrari 275 GTS: €1.792.000
4.     Lot 266 - 1948 Tucker 48: €1.344.000
5.     Lot 224 - 1955 Mercedes-Benz 300 SL Gullwing:  €1.232.000
6.     Lot 262 - 1952 Ferrari 212 Inter Cabriolet : €1.176.000
7.     Lot 253 - 1988 Porsche 959 'Komfort' Stage II: €896.000
8.     Lot 241 - 1995 Lamborghini Diablo SE30 Jota: €672.000
9.     Lot 139 - 1939 Bugatti Type 57 Cabriolet: €660.800
10.   Lot 244 - 1973 Porsche 911 Carrera RS 2.7 Touring: €610.400