1957 Ferrari 335 Sport Scaglietti sn: 0674 was sold for 32.1 M€
February 5, 2016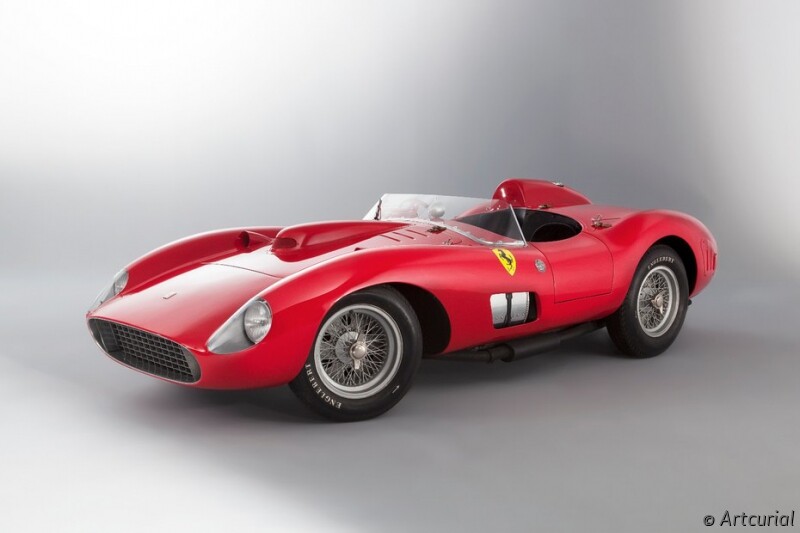 Paris – Friday 5 February 2016, shortly after 18h50, at the Retromobile Salon, Artcurial Motorcars, the collectors' car department at Artcurial achieved the world record for a car sold at auction in euros and sterling, under the gavel of Maitre Hervé Poulain. The iconic 1957 Ferrari 335 S Scaglietti, from the Pierre Bardinon Collection was bought by an international bidder for 32 075 200 € / 24 6 9 3 7 8 2 £ / 3 5 71 1 3 59 $ , including premium.
 The car left the workshops at the start of 1957, fitted with a striking Scaglietti body, a design born of the requirements of a powerful racing car. In March of that year it was entered by Scuderia Ferrari for the Sebring 12 Hours, driven by Peter Collins and Maurice Trintignant, and finished sixth. However, the Italians were really waiting for the Mille Miglia in May, when the best teams and the most experienced drivers would go head to head over 1 600 km of roads, without any break. Ferrari lined up four cars including chassis 0674 that was given to Wolfgang von Trips, who finished second behind the Piero Taruffi's Ferrari. For the 24 Heures du Mans, the car was given to Mike Hawthorn and Luigi Musso. Hawthorn took the lead in front of the Maserati and Jaguars and set the first lap record in the history of the Le Mans 24 Hours of over 200 km/h (203.015 km/h average speed) but unfortunately the car retired in the fifth hour with mechanical problems. On 24 February of that year, with Masten Gregory and Stirling Moss at the wheel, the car won the Cuba Grand Prix.
During the 1958 season, it participated successfully in various American races driven by Gaston Andrey and Lance Reventlow (creator of the famous Scarab), before being sold to Robert N. Dusek in 1960, an architect living in Pennsylvania. Following this American adventure, the car was brought to France in 1970. The American architect sold it to Pierre Bardinon, the astute collector who over the years assembled some fifty factory Ferrari comprising the most successful and iconic models in the history of the marque. Based near Aubusson, his collection is considered to be one of the most important, in terms of Ferrari. Kept as part Pierre Bardinon's private collection for over 40 years, the car has been used and maintained regularly and is presented in excellent condition.