A tribute to the memory of the "Grande Nivola"
September 21, 2015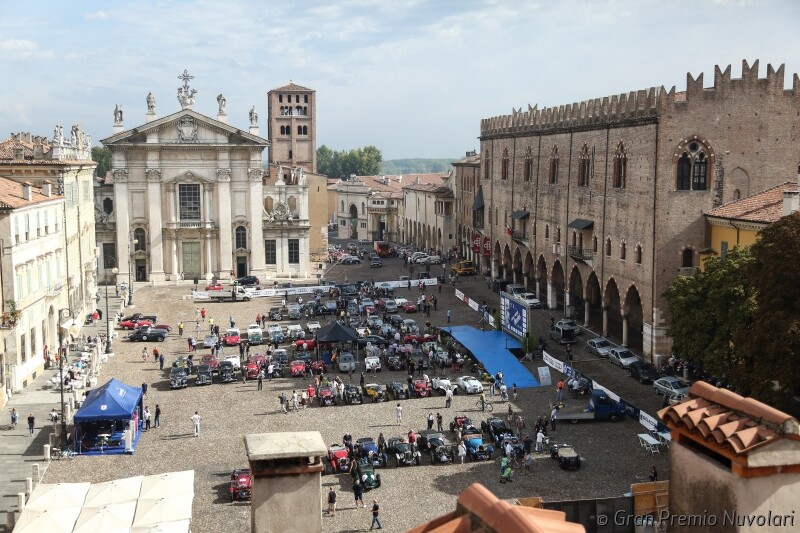 They were linked by a close bond of affection and they felt deep consideration and admiration toward this great "man-champion". They also were grateful to him because he contributed a lot to the unrestrainable growing of their "creature". To honor his memory, the traditional itinerary of the Mille Miglia was changed in order to get it pass through Mantova.
Since then the Gran Premio Nuvolari was established in order to give a price to the fastest driver, on the route along the impressive straight roads which cross "The Po Valley", starting from Cremona, through Mantova until the finish in Brescia.
After the four historical editions, from 1954 to 1957, today 25 revivals of the Gran Premio Nuvolari are to be added. The formula: an international rally reserved to historical cars.
In 2015, the beautiful Piazza Sordello in Mantova (Italy) has hosted the start of the race organized by Mantova Corse, ACI Mantova and the Tazio Nuvolari Museum and sponsored by Audi, Eberhard, Etiqueta Negra, Banca Generali. Several AUTOMOTIVE MASTERPIECES ran this important tribute to the memory of the "Grande Nivola".
For the fourth year in a row the Andrea Vesco and Andrea Guerini team is the winning team of the 25th edition of the Gran Premio Nuvolari, with a FIAT 508 S Balilla Sport and the number 53. On the podium gaining the second position also Giovanni Moceri and Daniele Bonetti, with the number 86 on a Fiat 508 C of 1939 from the Loro Piana Racing Team, while on the third step we find Antonino Margiotta and Bruno Perno, team number 309, on Volvo PV 544 Sport of 1965. The "Coppa delle Dame" (dedicated to the ladies) has been won by the team 210 of Emanuela Cinelli and Elena Scaramuzzi, on a Renault 4CV of 1957. Best Italian racing team award to Loro Piana, with 3 teams, and the Best Foreign Racing Team Award went to the 3 crews of the Houtkamp Collection.
The public of enthusiasts and curious welcomed in Piazza Sordello - Mantova, the 287 spectacular classic cars (out of the 330 participants) arrived from all over the world, that crossed the finish line after 1.060 kms "between the 2 seas". 25 years of itinerary divided into 3 demanding stops, reaching some of the most beautiful Italian historical centres and landscapes, after average trials (5) and chronometrical trials (81), discovering places that are both touristically and culturally fascinating. From and to Mantova, through jewels of the Reinassence and unique views along the Tuscan countryside, the Apennines passes of Cisa and Bocca Serriola, together with the San Martino del Lago Circuit (Cremona) and the Riccardo Paletti Racetrack (Varano, Parma): extraordinary frames of a unique race.
 
AUTOMOTIVE MASTERPIECES will celebrate the 130th Anniversary of the birth of Tazio Giorgio Nuvolari (1892-1953) in 2022 and the 70th Anniversary of the 1st Gran Premio Nuvolari in 2024 with two special virtual exhibitions. 
The first owner of this AUTOMOTIVE MASTERPIECE was Tazio Nuvolari:
♦️ 1933 Alfa Romeo 8C 2300 Monza sn: 2211137
Six cars participated in the Gran Premio Nuvolari in the historical editions and have already counted among the AUTOMOTIVE MASTERPIECES: 
♦️ 1954 Fiat 1100 TV GT - Pinin Farina sn: 103tv045281
♦️ 1954 Ferrari 500 Mondial Spider - Pinin Farina / Scaglietti sn: 0410MD
♦️ 1954 O.S.C.A. MT4-2AD - Morelli sn: 1151
♦️ 1955 Alfa Romeo 1900 Super Sprint - Zagato sn: AR1900C02060
♦️ 1956 Panhard Monopole X86 sn: 857976
♦️ 1957 Alfa Romeo Giulietta Sprint Veloce - Bertone sn: 1493E04349AR
 Five cars ran the 2015 revival of Gran Premio Nuvolari have already joined the AUTOMOTIVE MASTERPIECES exhibitions lab: 
♦️ 1926 Amilcar CGSS - Boone & Porter sn: 41097
♦️ 1927 B.N.C. Type 527 Sport Monza - Duval sn: 27082
♦️ 1933 Fiat 508 S Balilla Sport sn: 508016627
♦️ 1938/2006 Lancia Aprilia Sport Zagato Sanction II sn: 23850007
 ♦️ 1947 Fiat Stanguellini 1100 Berlinetta Special - Bertone sn: 290996