Bugatti Type 49 of Museo Nicolis won the Poltu Quatu Classic
July 12, 2015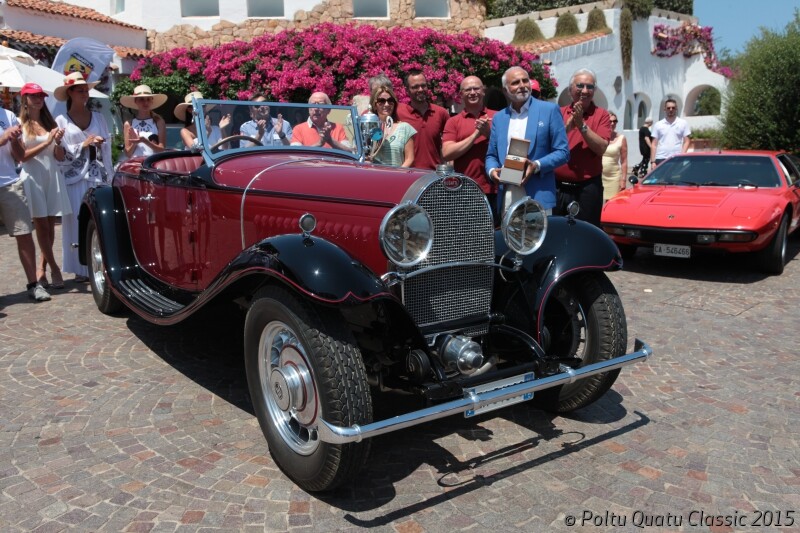 The ingredients of the Concours of Elegance Poltu Quatu Classic has been the key of the success of this second edition of the event: the Emerald sea of this corner of Sardinia, the timeless class of authentic jewels on four wheels, the enchantment of a Haute Couture fashion show that was the prelude to the parade of cars set up, or perhaps it's better to say, painted, in the magical setting of Poltu Quatu. The winner of the Emerald Coast's that took place from Thursday 9 July to Sunday 12 July in Sardinia was a Bugatti type 49 presented by Silvia Nicolis of Italian Museo Nicolis. The "Type 49" was introduced at the 1930 Paris Motor Show; it is considered the last Bugatti designed by Ettore, who left the control of the company to his son Jean. The car shown in the event was driven by the famous French driver Luis Chiron during the 1964 International Rally in Chioggia.
The Bugatti from Museo Nicolis's was chosen among the most important Vintage Car Collectors around the world, overtaking 30 teams and their magnificent cars.
Dom Perignon awarded the "Best of Class Category until 1950" to Bugatti type 37 owned by Daniele Turrisi, Best of Class until 1970 to Lancia Aurelia B24 owned by Edoardo Schon and Best of Class post 1970 to Lancia Stratos owned by Michele Lucente.


This year's competition was fielded by a strong presence of international teams from Italy, Argentina, Germany, Peru as well as the Principality of Monaco.
Dominik Fischlin, member of the Selection Committee for the Concours of Elegance of Villa d'Este and spoke person for FIVA led jury composed by Max Girardo, President of  RM Europe, Luciano Bertolero, founder of Auto Classic; revered expert in Ferrari history Filippo Perini, Director of the Centro Stile Lamborghini; Francesco Pulcini, President of Poltu Quatu Resort; Cristina Roma Pulcini, Vice President of the Poltu Quatu Resort and sponsor of this event.
Corrado Lopresto who was responsible for curating the field of automobiles that participated in this year's second edition of Poltu Quatu Classic.