The 100th Anniversary of Maserati 1914-2014
March 28, 2014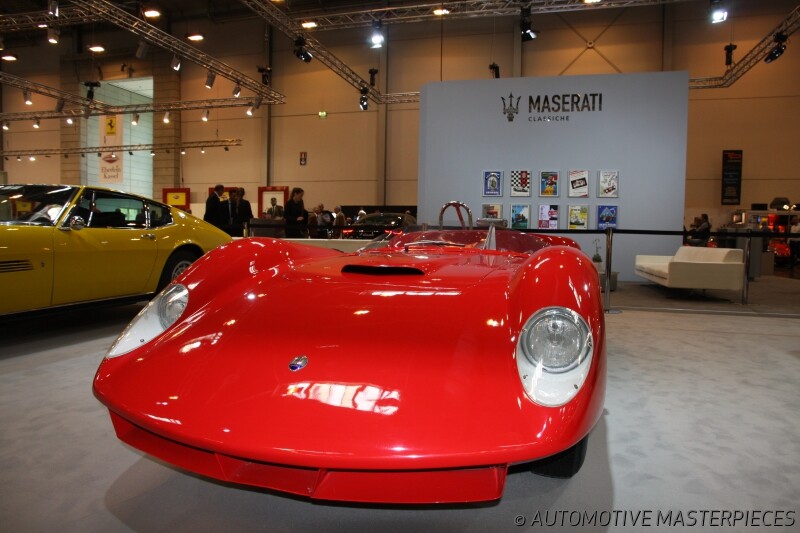 The year 2014 is very important for Maserati that will celebrate on December 1st its first 100 years. Maserati and all organizer of the world are planning a long series of activities to celebrate this Centennial anniversary. The zenith of the year-long activity will be the official Maserati gathering in Modena from September 19 to September 21, 2014 (www.maserati100.com).

At the Fair Techno Classica in Essen could not miss the brand of the Trident and the Deutscher Maserati Club. The first exhibited, among other cars, the amazing 1961 Maserati Type 61 "Birdcage" SN 2472, the second showed the first 1955 Maserati 300 S Fantuzzi ever built, SN 3051.

The official company presentation was enriched by the special exhibition in hall 6, arranged by the TECHNO-CLASSICA organiser S.I.H.A. in cooperation with Zagato, which exhibited spectacular 1953 Maserati A6G/54 2000 SN 2148 with Zagato-body (www.zagato.it).
Finally, Touring Superleggera displayed two rare models - a brilliant, completely restored 1956 Maserati A6G2000 Frua Spider SN 2182 as well as 1962 Maserati 5000GT Allemano SN 103.044(www.touringsuperleggera.eu).
AUTOMOTIVE MASTERPIECES exhibitions lab is proud to announce that it will follow all the events dedicated to Maserati. We have opened the census of all Maserati Masterpieces with the aim of organizing a meaningful virtual exhibition later this year.