The Bonhams auction at Grand Palais
February 5, 2015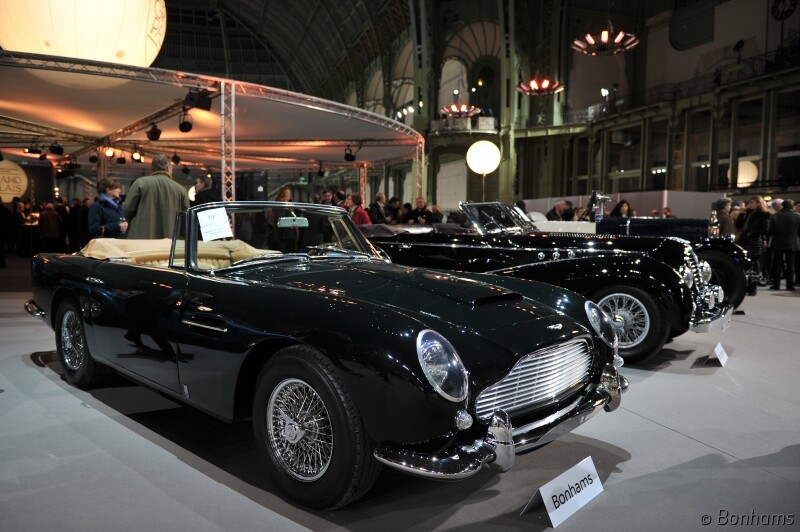 The first Car Show to be held at the Grand Palais in 1901 marked the start of a long tradition and the public's unfailing attachment to an event that soon became emblematic of the Grand Palais.  
Every year saw in new inventions: the automatic carburettor in 1904, the plate clutch in 1905, dampers in 1906. As from 1910, the decoration of the Grand Palais, till then left to the initiative of each carmaker, was entrusted to the architect André Granet. In a matter of years, the Salon drew long queues and record crowds. It provided the opportunity to find out about the latest technologies and trends in body design and comfort. The salon meant dreams for some, firm orders for others. In 1954 over a million visitors came to the show, drawn by its international reputation, and whose home remained the Nave until 1961. Times then changed and the car market had outgrown the capacity of the Grand Palais, which nonetheless remained firmly anchored in the daily lives of the French people.
The Bonhams Paris auction staged in this amazing temple during Retromobile week witnessed record-breaking prices, international bidding, and a record breaking total for a motor car auction held by the Bonhams Group in continental Europe. 
A new world auction record was set for a factory specification 1965 Aston Martin DB5 Convertible, The outstanding DB5 sold to an auction room bidder against the telephone for €1,897,500 (£1,430,715). Only 39 DB5 convertibles were manufactured in left-hand drive.
Elsewhere, one of the all-time great classic sports cars, the ex-Amschel Rothschild 1966 AC Cobra 289 'Mark II' Roadster was the runaway sale of the day, selling to a British bidder in the room for an above estimate price of €937,250 (£707,686). 
The Alfa Romeo 6C-1750 Grand Sport was also subject to some spirited bidding. Having once been driven by arguably one of the most famous racing Russians – exiled Russian Imperial Guardsman, Boris Ivanowski – the 6C finally sold to a European bidder in the room for €1,184,500 (£893,113).