RM Auctions at Paris
February 24, 2015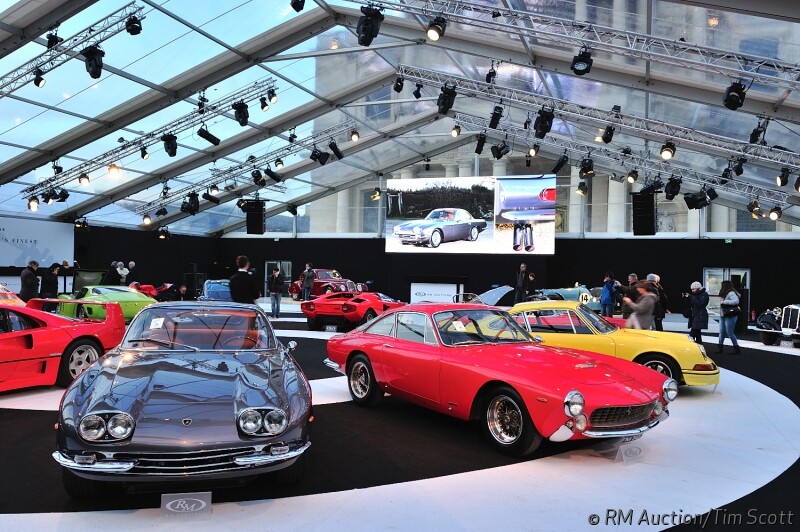 RM Auctions returned to Paris to stage its second sale in the French capital, selling € 19.353.750 worth of automobiles to a packed room of eager enthusiasts. With bids also coming in strongly via the phone desk and on the Internet from 34 countries, 82 percent of all lots were sold on the night with no less than five achieving sums in excess of € 1.0 million. The gorgeous 1963 Ferrari 250 GT/L Lusso Berlinetta sn 5085 GT, was the night's top seller, garnering a very strong € 1.624.000. The 250 GT/L 'Lusso' is considered by many to be the most stylish of all front-engined V12 Ferraris, a view that was supported by the vigorous bidding witnessed in the auction room.
The second biggest seller of the night was the simply lovely 1964 Porsche 904 Carrera GTS sn 904-026, freshly restored and with documented ownership and extensive successful competition history. This delightful sports racing Porsche is eligible for many of the world's great events, and the € 1.428.000 that car achieved was a reflection of the market's strong appreciation. Rounding out the top three sales was the much in demand 1963 Mercedes-Benz 300 SL Roadster. One of the most iconic of all post-war sports cars, 300 SLs are coveted by collectors all around the world, and the ultra-desirable alloy-block model offered fully deserved its € 1.232.000 selling price. 
Proving that it isn't just the Ferraris of the 1960s that are in high demand, the low-mileage 1990 Ferrari F40 presented in Paris attracted enormous interest. Regarded as one the greatest supercars of the modern era, the beautiful example on offer achieved an exceptional € 1.176.000. The list of million-euro-plus sales also included the visually imposing, bright green 1965 Iso Grifo A3/C Stradale. Appropriately dubbed the 'Green Apple', the car is a desirable early rivet-body example and was offered in perfect, fully restored condition, bringing a strong € 1.036.000.