Nine AUTOMOTIVE MASTERPIECES at the exhibition Zagato: Collectibles and Design since 1919
January 8, 2015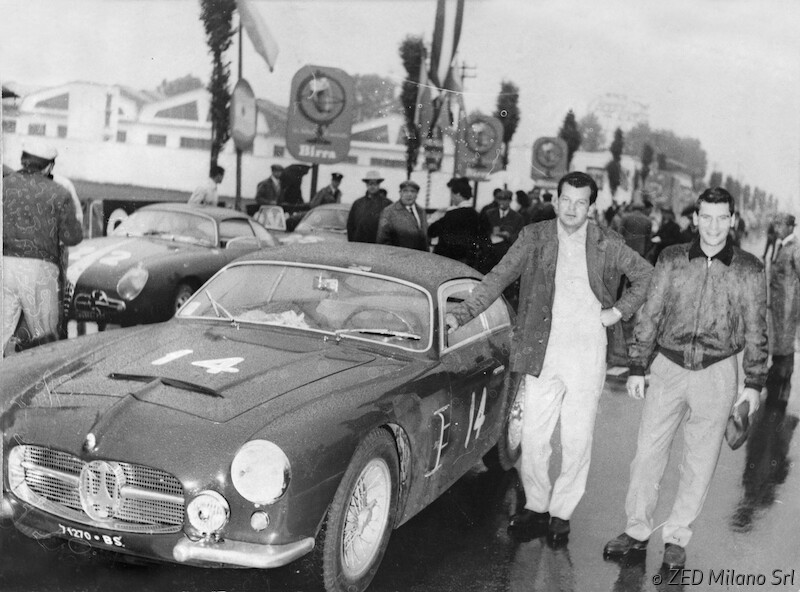 Nine AUTOMOTIVE MASTERPIECES at the exhibition Zagato: Collectibles and Design since 1919
The Museo Nazionale dell'Automobile "Avv. Giovanni Agnelli" is hosting "Zagato: Collectibles and Design Since 1919," a tailor-made exhibition, honoring the 95th anniversary of the historic Milanese coachbuilder and the close of its year-long celebration. Nine extraordinary collectibles, from both classic and contemporary periods, are exclusively showcased throughout the duration of the exhibition: 12 December-15 March 2015. The Zagato display cars have been hand-selected as a representation of the most prestigious Zagato collaborations with Original Equipment Manufacturers (OEMs) spanning from 1919 to 2014, and to celebrate the atelier, racing, design and lifestyle of the legendary "Zeta."  
"Zagato: Collectibles and Design Since 1919" is a special, first-time opportunity for the public to witness such a significant gathering of nine Zagato automobiles, which are typically tucked away in the world's most exclusive private collections. An extraordinary gesture for the Museum Nazionale dell'Automobile to celebrate Zagato's role and influence, the objective is to reach as many people around the world as possible through unique exhibitions such as this in order to encourage education and perspective for automotive history and preservation.
A symbol and guardian of creativity, craftsmanship and industry linked to the automotive world, the Museo Nazionale dell'Automobile tells – through a complex and fascinating exhibition – the history of creativity, from its origins to the present day. It's not by chance that design plays a central role in the museum. Or better, design is its beating heart. The museum is a space that tells about creative work and ideas that become substance thanks to diligence and teamwork. The ground floor of the museum has been completely reorganized with spectacular scenery, designed to promote a wider knowledge of car design, historical evolution, and the people who have determined past changes, present situations and future trends. This is the context where the collaboration between the Museo Nazionale dell'Automobile and Zagato lives: an exhibition of incredible cars that tells how creative flair, great craftsmanship and innovation have enabled the brand to become a world-renowned symbol of Italian excellence.
"Zagato: Collectibles and Design Since 1919" Classic Cars Display
Five very significant and historic Zagatos of different eras have been assembled to demonstrate the evolution that began with the racing era at the beginning of the century and ended with computer-aided design in the '80s and '90s. The following cars are on display in Torino:
Alfa Romeo 6C 1500 Testafissa Carrozzeria Brianza/Zagato representing the Corse era of the 1910-20s. This car is fitted with one of the just 18 "Testa fissa" (fixed head) racing engines built between 1929 and 1930. Bought new by well-known Italian lady driver Anna Maria Peduzzi (aka "Marocchina"), it was extensively raced in the Thirties also running the Mille Miglia in 1934, driven by "Marocchina" Comotti under Scuderia Ferrari banner, placing 13th overall and 1st in the 1500 class, and 1936, driven by Swiss Emmanuel de Graffenried, when it was a DNF. In 1953 it was imported to the USA by Luigi Chinetti (the famous Ferrari importer and owner of the NART - North American Racing Team) and later also raced at historic events from 1986 to 2003. 
This car has joined the lab of AUTOMOTIVE MASTERPIECES.
 Lancia Aprilia Sport Zagato (1939/2006) representing the Aerodinamica era of the 1930-40s 
Maserati A6G 54 Zagato representing the Gran Turismo era of the 1950-60s
Lancia Flavia Supersport Zagato (from Lopresto Collection) representing the Fuoriserie era of the 1960-70s
Alfa Romeo S.Z. representing the CAD/ CAM/ CAE era of the 1980-90s
"Zagato: Collectibles and Design Since 1919" Contemporary Cars Display
The current decade of the 2010s may be considered a time period of Icone for Zagato, which has been paying homage through its work with the most iconic models of its own history as well those of other prestigious brands that have significantly impacted greater culture. The following are also on display in Torino:
Fiat 500 Coupé Zagato (2011)
BMW Zagato Coupé (2012)
Aston Martin Virage Shooting Brake Zagato (2014)
Alfa Romeo TZ3 Stradale (2011)