The 8th Trofeo Milano, organized by CMAE.
October 15, 2014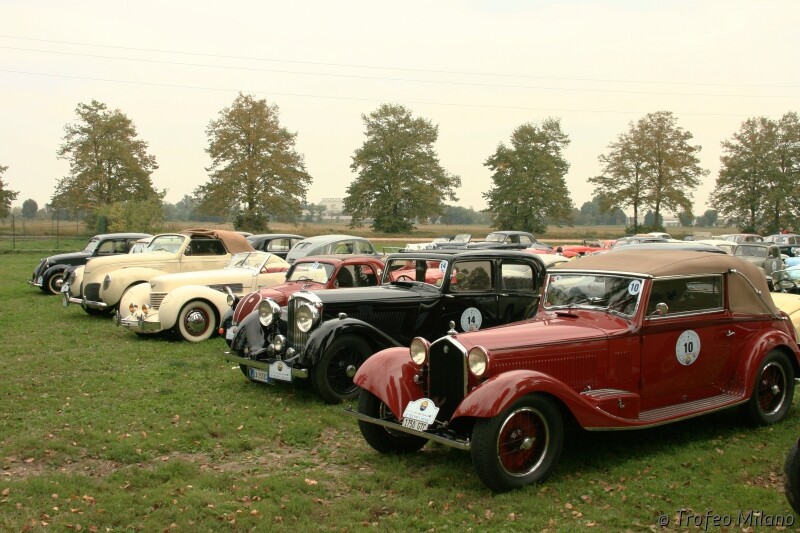 The 8th Trofeo Milano, organized by CMAE, was a success and ended Sunday, Oct. 4 in Piazzale d'Armi of Castello Sforzesco in Milan, where took place the public presentation of over 100 cars in the event. We wish to point out the participation of the car that won the prize as the most representative of the city of Milan: the 1932 Alfa Romeo 6C 1750 GTC Cesare Sala.
The Alfa Romeo 6C 1750 GTC, two seater supercharged versions, won all the races of the Thirties and marked the beginning of Alfa's relationship with the great coachbuilders like Zagato and Touring. For those clients who wanted to Grand Tour rather than take part in motor sport, this Cabriolet Royal, offered a superb compromise. Designed by Carrozzeria Cesare Sala of Milan it is the remaining car from extremely limited production. 
This car is eligible for the following virtual exhibitions: 2017: 90th Anniversary of the Alfa Romeo 6C (1927-1952) 2017: 130th Anniversary of the Carrozzeria Cesare Sala (1887-1933) 1910-2020: 110 years of Alfa Romeo 2021: 130th Anniversary of the birth of Vittorio Jano (1891-1965) Among others. In Milan, we were also impressed by a second car: the 1955 Mercedes-Benz 300 SLS Roadster prototype  
For the development of the 300 SL Roadster, it was decided to use one of the 300 SL W194 Sports built in 1952. The car chosen was #00009/52 the one placed 2nd at Le Mans in coupé form and raced in roadster form at the Carrera Panamericana Mexico. The chassis was stiffened and fitted with the new body designed at the Mercedes-Benz Style Center. The prototype was completed in September 1955 and first road tested in November. The new model, officially denominated 300 SL Roadster, was first exhibited at the 1957 Geneva Motor Show, and this car was used for the official press photos and first sale catalogues. Retained by factory until 1965, this 300 SLS Roadster prototype was renumbered 8427198118/1 and subsequently sold to its first private owner. 
 This car is eligible for the following virtual exhibitions:
1905-2015: 110 years of the Géneve Motor Show
1926-2016: 90 years of Mercedes-Benz
2017: 60th Anniversary of the Mercedes-Benz 300 SL Roadster (1957-1963)
2020: 70th Anniversary of the Carrera Panamericana (1950-1954)
1923-2023: 100 years of the 24 Hours of Le Mans
Among others.
 Follow the work in progress virtual exhibitions keeping you up-to-date with behind-the-scenes census!