Maserati Mexico 4200 Frua Prototype won the Best of Show on the Maserati Centennial
September 20, 2014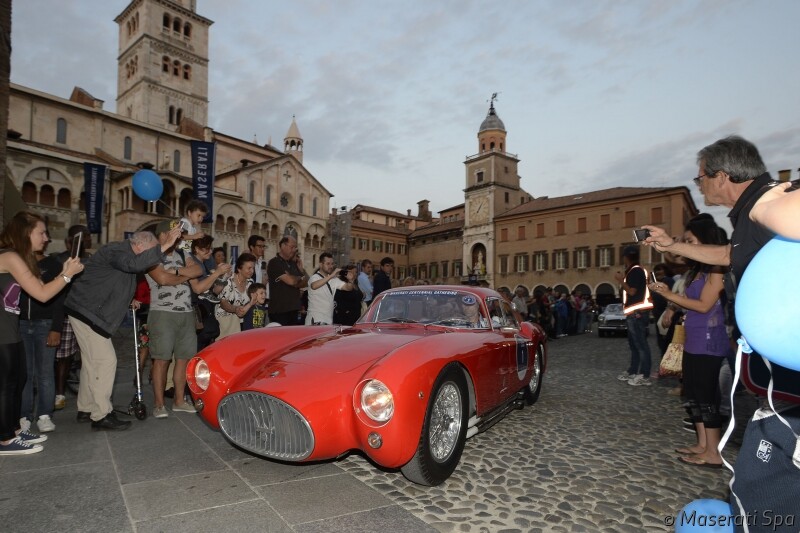 The presentation of the "Best of Show" award to a Maserati Mexico 4200 Prototype Frua marked the official conclusion of the Maserati Centennial International Gathering, the three-day event that has brought together 200 classic and modern Maserati cars and almost 500 collectors and clients to retrace the Brand's history.
 The One off Maserati Mexico Prototype was built by Pietro Frua and was dispayed at the Geneva Motor Show 1968.
 The third day was spent entirely in and around Turin, with the final section of the regularity competition and the climb to the Basilica of Superga, the guided tour of the "Avv. Giovanni Agnelli" plant at Grugliasco where the Maserati Quattroporte and Ghibli are built and the crowded, highly acclaimed Concours d'Elegance in Piazza San Carlo, the real heart of the city.


 The Maserati A6 GCS/53 from the Panini collection received a special award and classified third in the regularity rally. The car is part of the historic collection of Maserati vehicles that Umberto Panini recovered at the start of the 90s and brought to Modena.


 The following car from the Umberto Panini Museum has already joined the lab:
 1958 Maserati 420/M/Eldorado
 Three days of celebrations involving Bologna, the city where Maserati was founded in 1914, Modena, its home since 1939 and where its headquarters are located and Turin, where the Brand's second production site has now been in operation at the "Avv. Giovanni Agnelli" plant at Grugliasco for a year and a half.
 AUTOMOTIVE MASTERPIECES will celebrate this anniversary with "1914-2014: 100 years of Maserati" from 1st of December 2014 to 1st of December 2015.
 Follow the work in progress virtual exhibitions keeping you up-to-date with behind-the-scenes census!