Corrado Lopresto Collection: two Alfas like no other
March 21, 2014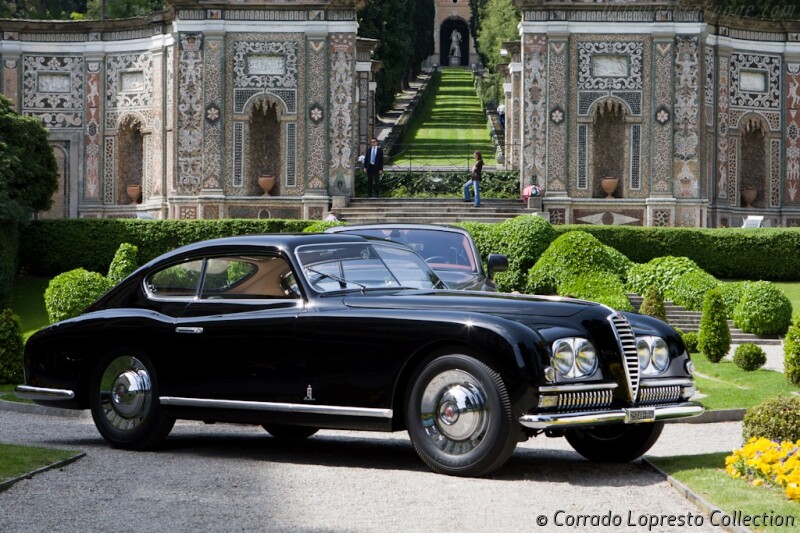 If you love cars and respect their history, you will not argue with Henry Ford, who said: "When I see an Alfa Romeo go by, I tip my hat". His admiration for Alfa Romeo is legendary, and in case you wonder why he thought so, all you have to do is visit the websites of Corrado's Alfa.
We are proud to welcome the first cars from his collection.
The sites are still under construction but you can already appreciate the uniqueness of these Alfas.
In the post-war years the demand for bespoke coachworks was very high and probably more than fifteen Italian coachbuilders built special bodies to clothe the important Alfa Romeo 6C 2500 chassis; of course, Stabilimenti Farina and Pinin Farina were two of them.
The first car is one of earliest designs of Giovanni Michelotti for Stabilimenti Farina, a 1947 Alfa Romeo 6C 2500 S Cabriolet #915339. 
It's an one-off and was exhibited  at the 1947 Paris and New York Motor Shows. When new the car was also exhibited at the Rome and Montecarlo Concours d'Elegance. This is the first eligible car which begins the census required for several virtual exhibitions, including among others, the 100th Stabilimenti Farina 1919-1953, the 80th Alfa Romeo 6C 2500 1939-1952 and the exhibitions pertaining to the aforementioned historical events.
The second car is the 1949 Alfa Romeo 6C 2500 SS Coupé #915769, built by Pinin Farina on the SS short-chassis coupled to the 110 cv three-carburettor engine, this one-off coupé was ordered by a titled Sicilian family, who retained the car until 1961, when it was exported to England. In 1975 the car was sold to the USA and in 2000 it was bought back to Italy.
Remarkably, it is believed to be one of the first cars featuring the twin headlamp configuration. This second car begins the census required for further virtual exhibitions including the 90th Pininfarina 1930-2020 and the 80th Alfa Romeo 6C 2500 1939-1952.