Mille Miglia's Chassis Volume III, from June 19th
May 25, 2023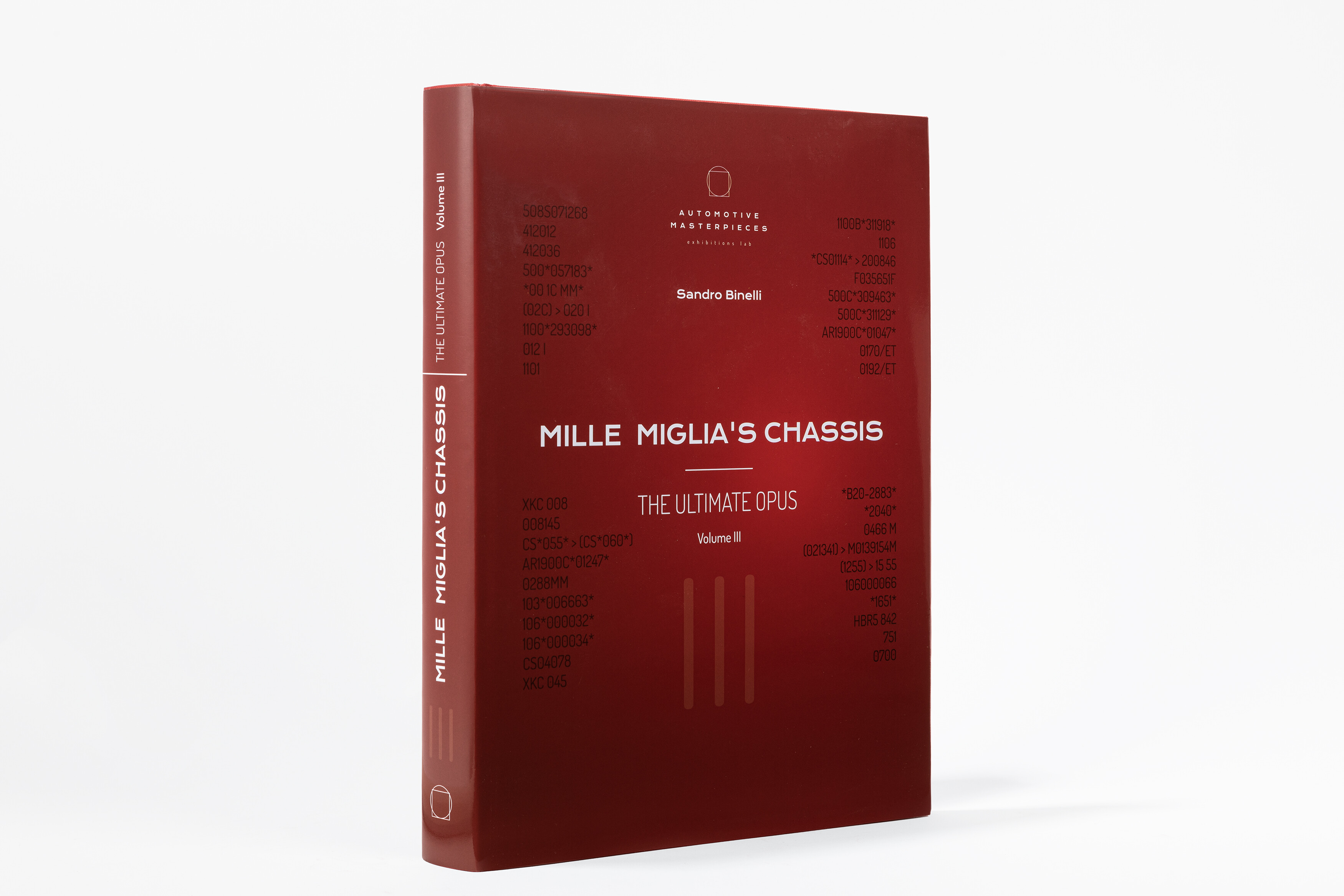 The third chapter of our exciting picture adventure with cars and on the roads of the Mille Miglia is coming soon!
From June 19th the book Mille Miglia's Chassis Volume III, dedicated to the cars that raced in the Mille Miglia, full of photos that testify to their participation, will be delivered.
It's an ambitious project, the first of its kind, which develops in a series of ten volumes, three of which have already been published.
Each car that took part in the Mille Miglia from 1927 to 1957 is presented in two tables: one regards all the speed Mille Miglias in which it took part, a second table regards subsequent events under the Mille Miglia name. A third table includes the categories to which the car belongs according to AUTOMOTIVE MASTERPIECES and includes all the races and events the car has taken part in worldwide, over the years.
The book is entirely published by AUTOMOTIVE MASTERPIECES and is written by Sandro Binelli, car historian and great fan of the red arrow.
To enhance the reading experience in the book, each car featured will have its own QR code, allowing for an unprecedented digital extension to even more historical detail. The www.automotivemasterpieces.com site has recently been revamped and the cars featured in Volume III are due for release this summer.
Volume III includes: 38 cars participating in the 1927-1957 Mille Miglia, currently in existence, traced by chassis number and registered in over 65 documented participations with over 300 photos of the period.
Very difficult to choose which cars to mention among so many wonders; one at least, surely the star of this edition is the overall winner of the 1947 edition, the imposing 1938 Alfa Romeo 8C 2900 B (Carrozzeria Touring), chassis no. 412036, driven by champion Clemente Biondetti and Emilio Romano to the first post-war victory.
MILLE MIGLIA 'S CHASSIS is a unique collection for the attentive collector, a "must-have" for the petrol-head who wants to keep all the cars that took part in the Mille Miglia in his library!
The edition of Mille Miglia's Chassis Volume III is limited to 500 numbered copies, signed by the author, plus another 1,000 copies.
Find out all the cars featured in volume III, in the index which also includes the cars in volume I and II, by clicking here: https://shop.automotivemasterpieces.com/